Here is how to turn your smartphone into a digital microscope for just $10: DIY
9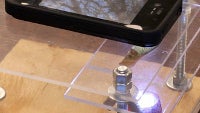 You already know that you have a hugely powerful tool always in your pocket - your smartphone. Don't you wish that you could use it for a little more, make use of its capabilities to help you with school and science? A new do-it-yourself guide shows exactly that, a way to creatively turn your phone into a digital microscope and do real science for just $10.
The whole project will take up merely 20 minutes and requires little preparation. You have to get the materials ready and have a drill and assorted bits at hand. Then, you need to go shopping and get a few nuts, bolts, plywood and plexiglass pieces. With all this, you'll be ready to assemble your own digital microscope to work with your smartphone.
First, here are all the materials that are necessary:
3x 4 ½" x 5/16" carriage bolts
9x 5/16" nuts
3x 5/16" wing nuts
5x 5/16" washers
¾" x 7" x 7" plywood -- for the base
⅛" x 7" x 7" plexiglass -- for the camera stage
⅛" x 3" x 7" plexiglass -- for the specimen stage
laser pointer focus lens
LED click light (necessary only for viewing backlit specimens)
Next, you'll need the following tools:
There is an actual step-by-step walkthrough of the assembly that you can watch in a video right below, but first a few words about the end result. It is a microscope that is capable of up to 175x magnification - enough to see and explore a plant cell. The whole creation is also completely mobile so you can do your shots outdoors without any expensive equipment. Take a look at how it's done right below.
source:
Instructables