Here are the official Galaxy Note 4 cases
21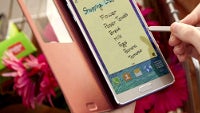 Leave it to Samsung to out no less than five (yep, five) official cases and covers for its newly-announced
Galaxy Note 4
, among which is one with a Swarovski crystal back cover.
The rest is pretty run-of-the-mill, with the traditional S View Cover, Flip Wallet, and S View Wallet taking centerplace, but also an interesting take on HTC's Dot View case, called the LED Cover.
Mike called it a shameless "inspiration,"
or maybe it's a sign of the times where everyone copies from everyone, and even the slightest original idea gets replicated like a bush fire as soon as the next upgrade cycle.
In any case, in the coming days and weeks we are expecting a lot more third-party cases from all famous and not-so-popular case makers, and we will update this collection accordingly.