Here are the best smartphone virtual reality headsets money can buy
12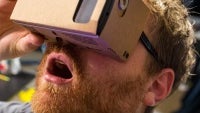 Those old sci-fi books were right! It's 2015, and virtual reality is upon us - courtesy of Google and the miracle of smartphones! By launching Google Cardboard in July 2014, and giving away its reference schematics and software development kit, Google created a niche that's growing into an industry. Chinese white box producers ate up the schematics and made cheap plastic clones, leading to VR absolutely blowing up in China. Small American and European businesses blossomed by selling Cardboard clones of different builds and sizes. Even heavyweights like Samsung and Zeiss jumped in the game with upper-market products.
Still, if you haven't spent some time researching smartphone-based VR, you'd be surprised to learn how incredibly low the entry barrier to VR entertainment has become. In fact, it's practically non-existent. You no longer need a pricey Oculus Rift, a fast computer and a bunch of complex software to have some fun in a virtual world. These days, everyone can get a VR headset for their smartphone, be it a $2 Cardboard clone or something better, and be on their way to slaying VR dragons. Granted, this way of experiencing virtual reality isn't as immersive as you probably hope and expect. It's essentially sliding your phone inside a viewer and looking at its screen through a pair of lenses. But it's a great deal of fun regardless, and if VR headsets can deliver so much entertainment in this basic state, just think what the future could bring!
All things considered, it's about time we rounded up the most popular smartphone-based VR headsets on the market today. We've ranked them by price, starting with the cheapest and ending with the most expensive. With the exception of the Samsung GearVR, all headsets have been built upon Google Cardboard's foundation. Cardboard itself works on the age-old principle of stereoscopy. The stereoscopic method was invented in 1838, and believe it or not, as far back as 1860(!), old-timey folks could enjoy primitive VR - pocket stereoscopes and stereoscopic cards offered a look into static and colorless, but immersive scenes. Stereoscopy basically presents two offset images separately to the viewer's left and right eye, which the brain combines into an illusion of 3D depth via the help of lenses. This hasn't changed since the old days at all. But combine stereoscopy with your smartphone's high-resolution display to show the images on, its built-in movement sensors to track your head's motions, and binaural audio recording techniques to trick the ear. And voilla, you've got yourself the basis for a VR headset! Just build a nice plastic case around it, and leave it to developers and producers to make the VR content.