Here are the best iPhone trade-in deals right now
42

Since you've landed on this page, then chances are you're a proud iPhone owner. Also, we'd bet that you've decided to upgrade to a newer iPhone model – an
iPhone 6
or an
iPhone 6 Plus
– and you need to figure out what to do with your current one. Of course, you can always give it to a friend or relative, but selling it is just as good of an idea. To help you out in getting the most money in exchange for your used iPhone, we've scouted the internet for the best iPhone trade-in deals available right now. Check them out below!
Major carriers: AT&T, Verizon, Sprint, T-Mobile
AT&T's
trade-in program lets you sell your used iPhone in exchange for a promotion card, which is good towards the purchase of the carrier's products and services. Below are the trade-in values for an AT&T-branded iPhone, but other carriers' models are also accepted, albeit at a lower price. Note that damaged phones are valued much lower, so perhaps you shouldn't even bother sending yours if it has been dropped in the toilet. We must also point out that iPhone 5 and iPhone 5c values are boosted by $40~$50 for a limited period of time; quote below includes that bonus.
And here's what
Verizon
will pay for your used iPhone. Again, trade-in value is determined by your phone's condition, and your credit is good towards purchasing the carrier's products and services. Both non-branded and carrier-branded iPhones are accepted, and there's no difference between their values. While the carrier will accept iPhones that have cracked screens and won't turn on, it won't give you anything if your broken iPhone has suffered from water damage.
Alternatively, you may check if you qualify for Verizon's new offer – trading in an iPhone 4 or newer iPhone model gets you a free 16GB iPhone 6 smartphone. You have to renew your 2-year contract, however.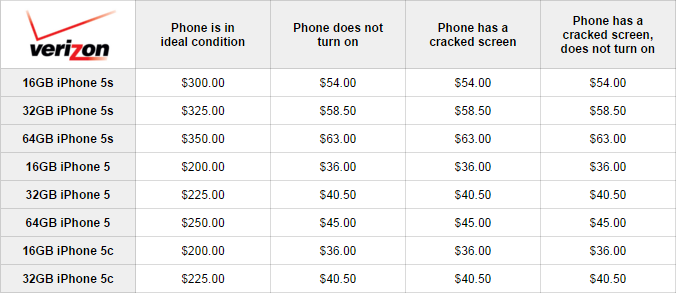 These are the quotes
Sprint
is giving for used iPhones on its trade-in web page. They don't look quite as attractive, we know, but there is a way of getting a higher value for your handset. You see, Sprint just recently announced that it will meet or beat the trade-in quotes offered by its competitors, meaning that if your iPhone is in good condition, it can get up to $300 worth of store credit for it. Or you might consider switching to Sprint's new "iPhone for Life" plan, which gets you a new iPhone model every two years. The plan is priced at $70 monthly – $20 for the phone and $50 for the service itself. There's no upfront phone cost with this offer.
Here are the maximum trade-in values T-Mobile is quoting on its web page. Accent here is on "maximum" as the figures will be significantly lower if your used handset is damaged or totally broken. As you can see, iPhone models from all carriers are being accepted. Similarly to Sprint, T-Mobile has a price-match program coming soon. Starting September 17, the carrier will meet the trade-in values of its rivals and will throw in an extra $50 worth of bill credit. Not a bad deal, don't you think?

Alternative trade-in options: Apple, Amazon, Gazelle, and more
In case you didn't know,
Apple
has its own trade-in and recycling program, and iPhones are covered by it. The figures seem pretty decent as you can get up to $310 in the form of Apple Store credit. If your iPhone is seriously damaged, however, don't even bother trying to get anything beyond a free recycling.

Amazon
is accepting trade-ins on iPhone in acceptable or better quality. The exact criteria determining the quality level of your iPhone is described on the retailer's web page, but to put it briefly, it goes like this: iPhones that have some visible wear and tear, but are fully functional, with no cracks or broken buttons are considered acceptable. If in addition to this the iPhone has a flawless display and comes with all of its accessories, then it is in good condition. The "like new" condition is pretty much self explanatory. Be warned that prices vary significantly depending on what color iPhone you're trading and which carrier it is locked to. Quotes below are the highest we can find as of this writing.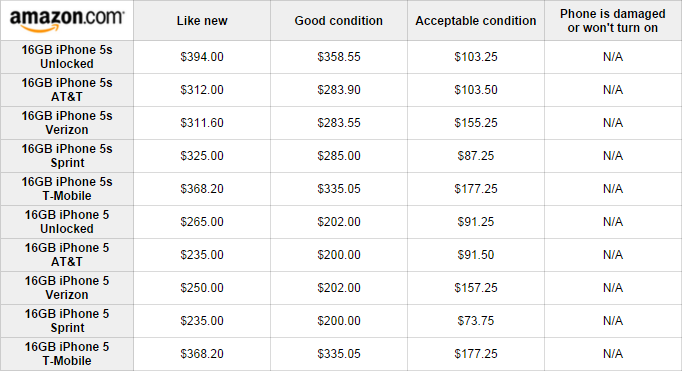 All kinds of gadgets can be traded in at
Best Buy
, including iPhones. The retailer will accept iPhones as long as there's nothing seriously wrong with them - if the screen is not cracked, if it turns on, and if buttons don't need servicing. Interestingly, Best Buy will accept trade-ins for working iPhones with a tripped water damage detector.

Radio Shack
will accept your iPhone regardless of its working condition. In fact, the rates for a non-working iPhone are pretty decent given how much others would pay for one. Radio Shack will deduct a few bucks if your charger is not included with the iPhone being traded in.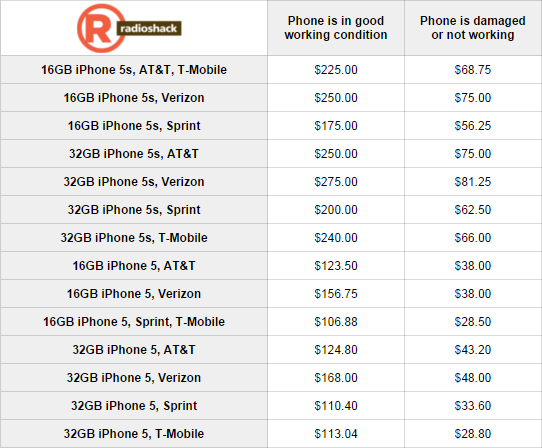 And here are the trade-in offers from
Gazelle
– one of the few places where you can get actual cash for the phone being traded in. If you have a carrier-locked iPhone model, consider unlocking it before trading it in as that will increase its value. Non-working iPhones are also accepted.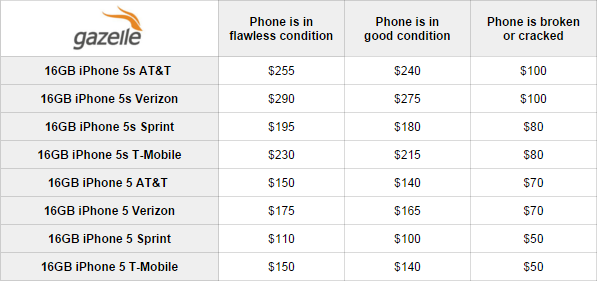 Last but not least, we give you quotes from
uSell
. As with Gazelle, you get cash in exchange for the phone being traded in, not merely store credit. Damaged iPhones are A-OK!