Here are more paid iOS apps free for a limited time - part 1
5
They say that there is no such thing as a free lunch. But no on has ever said that there is no such thing as a free app. Perhaps that's because we often pass along a list of paid iOS apps that are absolutely free for a limited time only. We start off this edition of the list with
AllPass Pro
. Usually priced at $2.99, for now this app won't cost you a penny. Consider the app to be like a secure vault. Instead of money inside, there is something even more valuable, your personal data. Passwords, credit card data and personal notes are all protected with 256-bit encryption.
When it comes time to escape into a game, check out
Heavy Blade
. Usually 99 cents and now free for a limited time, the game is "is a 3D hack and slash dungeon crawler with gorgeous visuals and a heavy rock soundtrack." While you can play using the touch screen, the developer recommends a third-party controller. The game will work for those rockin' the
Apple iPhone 5
or later.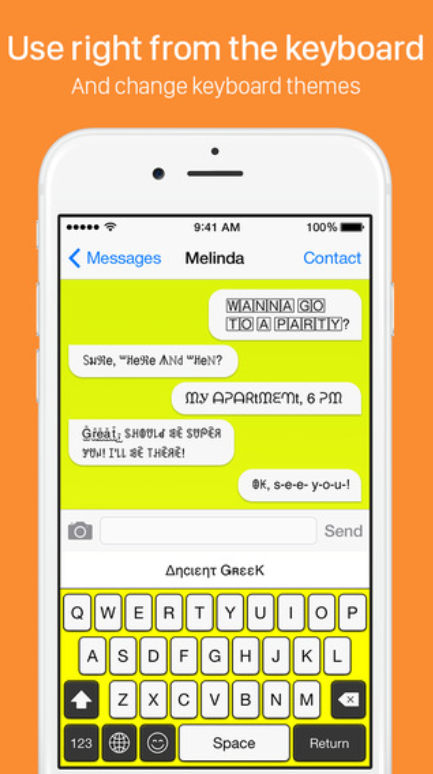 With My Fonts, you can change fonts straight from the keyboard
You will saving 99 cents by downloading
Netcasts
now, while it is free. When it comes to handling podcasts, streaming media and video, this app does it all. And
PhoneBook Pro
, normally $1.99, is a contacts list/address book that removes duplicate names, will backup and restore contacts, and allows you to bookmark contacts and email addresses.
Remote File Manager
is usually $4.99, which means that you can save close to $5 by grabbing the app now. With it, you can access the files you have on Windows, Linux or Mac boxes, or in cloud storage apps like Dropbox, Google Drive and SkyDrive. With the app, you can control music, video, photo and document files. According to the developer, you can copy/move/rename/delete remote files from your iPhone or iPad.
Normally 99 cents and now free for a limited time is
My Fonts
. This is a fun app that allows you to change the font on your messages. The collection of unicode fonts can be used directly from the keyboard with most apps.
InstaTrend
is an app that normally costs $2.99. With it, you can check to see whether you are gaining or losing Instagram followers. With InstaTrend, you can reach a certain goal of Instagram followers.
And that's all for now. If you see an app you like, grab it right away because you never know when the free pricing will end.
source:
AllPassPro
,
HeavyBlade
,
Netcasts
,
PhoneBookPro
,
RemoteFileManager
,
MyFonts
,
InstaTrend
via
BGR