Here are more leaked pictures of the BlackBerry Z10 in white
44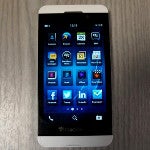 The BlackBerry Z10 has become a regular guest in our news section lately, and January 28th will not pass without a new set of leaked images. This time, the handset has decided to appear in front of the cameras in a stylish white outfit. We've already seen the Z10 in white, but these new pictures give us a slightly better view of the device.
Apparently, RIM will not go with an all-white design for the Z10, and instead it will keep the screen glass black, similarly to what HTC did with the white One X. The effect looks quite cool, and we can already add the white Z10 to the group of the 'better-looking' smartphones. Specs-wise, RIM is keeping things reasonable, as the BlackBerry Z10 is expected to sport a 4.2" HD display, a fast dual-core processor, 2GB of RAM and a good amount of internal storage, coupled with a microSD card slot.
Research in
Motion
is expected to announce the BlackBerry 10 OS and the Z10 on January 30. It is then that we'll know all the details about the company's latest endeavors. Stay tuned for our extensive coverage!
via:
CrackBerry