'Heart Rate' app scam shakes iPhone users out of $90 by taking pulse with Touch ID
9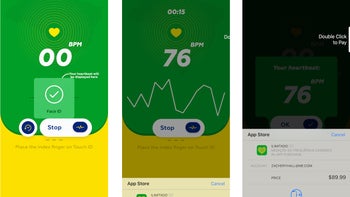 Here is an app scam for the age, and on iOS at that. The since-removed "Heart Rate" entry in the App Store has been tricking people into measuring their pulse by utilizing the Touch ID module on older iPhones. There are plenty of third-party options that take your heart rate by using the rear camera, for instance, so the Touch ID pulse "innovation" might have flown over the head of its users.
It turned out, however, that while measuring your pulse, the app is also trying to make you
authorize an in-app purchase (IAP)
. Apple's review process allows the IAP amount to be changed after App Store entry is approved and the developer might have then jacked up the sum to the whopping $89.99, authorized with your own fingerprint taken by the Touch ID module while you think the app is measuring your pulse only.
A scam for the ages indeed, and the app devs deliberately dim the brightness to the lowest possible level so it's hard to tell the IAP amount before you simply authorize the payment to gain your brightness and heart rate readings back.
Thankfully, the app was apparently meant for Portuguese language users judging from the IAP screen but the interface language is also in English and Apple has now taken a swift retribution by kicking the app out of its Store.