Have a bent iPhone 6? gTool may help
50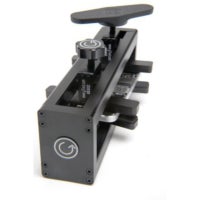 Yes, yes,
#bendgate
has gotten pretty old pretty fast. For those of you, sick of this word – worry not, we will not be mentioning it again, unless there is an interesting development around the issue.
However, we will not disregard the fact that the allegedly bendable iPhone 6 Plus became a hot topic of the Internet this past week. How much of it is true and how much was overblown by people, who decided to try and bend their iPhone 6 Plus units on purpose, remains unknown. Still, there is no denying that some users
did get the issue accidentally
, and this means that there will probably be more such mishaps in the future.
In comes company gTool with a solution – the PanelPress. It's basically a screw press-like device, which has been shaped and outfitted in a way that, supposedly, returns an iPhone's (5, 5s, 6, 6 Plus) bent aluminum panel to its original shape, without deforming or damaging it.
Now, at first read, one might think "This is ridiculous", but do keep in mind that gTool is a company that makes a business out of selling specialized instruments meant to fix iDevices. In the past, they have released solutions such as the iCorner (to fix bent corners on dropped iPads and iPhones), Screen Jack (to safely and securely pull a screen off of a device), etc. So no, the PanelPress is not something meant for you to buy and use at home, rather it is aimed at specialists who provide repair services.
As far as price goes – the unit is available in Europe for ~$290 (€228). The company does have a network of partners in the US, but we couldn't find the new product on their websites at the current time.