Hangouts to increase call quality with direct P2P connections
3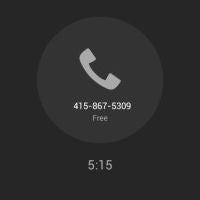 Hangouts has gotten a few tweaks here and there recently. There have been some small UI changes as well as a couple
interesting new features
. Now, Google is trying out a new way to potentially improve audio and video quality over Hangouts by no longer routing those communications through Google servers.
Instead, Google will attempt to make a direct peer-to-peer connection between the users who are calling each other. This would be a more efficient way to make the connection and should lead to better audio and video quality, according to Google. Users are being told of the new feature with a notification when attempting to make a call, but as per usual, the feature is rolling out slowly.
Google does warn users that the direct P2P connection will result in revealing the IP addresses of each party involved. This could be a privacy risk, because it is possible to figure out an approximate location based on someone's IP address. It doesn't seem as yet that Google has a way for users to turn of the P2P connection option in order to avoid revealing their IP, but if privacy advocates yell loud enough, we wouldn't be surprised to see Google add it.
Reports have seen the new P2P connections being made for Android users, but there haven't been reports of iOS users seeing the same notice.