Hangouts for Android updated with new tabbed UI and support for voice calls
8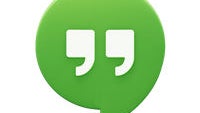 Today is update Wednesday for Google, and today's updates seem to be all about Hangouts. First, we saw indications that
Google Voice
will finally be absorbed into Hangouts, then Google released a new
Hangouts Dialer
to allow for voice calls in Hangouts, and now there is an updated Hangouts app to support the Dialer and bring a new tabbed UI.
Visually, Hangouts has gotten an extremely welcome UI overhaul. It now features a tabbed UI for easy switching between your contacts list, messages, and the dialer (if you have the Hangouts Dialer app installed), and swiping will move you between tabs. You'll also notice that the top bar of Hangouts has been colored green in preparation for the colorful new design of Android L.
In terms of functionality, the big addition is support for the Hangouts Dialer, and therefore support for voice calling. Once you install the Dialer, a new tab will appear in Hangouts to allow you to make calls. Most users will be able to use it for free calls to the US and Canada and discounted rates on other international calls; but, if you have Google Voice, it can turn Hangouts into a complete VoIP calling solution after you turn on the option to receive calls in Hangouts.
As mentioned, the Hangouts update is rolling out now, but you can head to the
Android Police
source if you want to sideload it.