Hands on with the Samsung Epic 4G Touch
46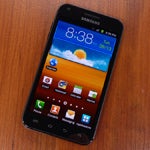 It's not too shabby on the eyes either. Sure, it's a big black slab but man is it a BIG black slab. The display is massive yet the Epic Touch clocks in at just 10mm thick and is easily smaller in the pocket than the
HTC EVO 3D
or the
Motorola Photon 4G
. It has an 8 megapixel rear camera capable of 1080p videos at 30fps and complemented by a 2MP shooter up front. It has 16GB of on-board memory (11.5GB for user storage, another 2 for apps) plus a microSDHC card slot. It has Samsung's TouchWiz
3.0
4.0 running atop Android 2.
3.4
. Yeah, this is a monster device through and through. The short story is that if you're looking for the meanest, baddest, most awesome phone on the market right now... well, you should wait for
our full review
to see just where this phone slots in on the pantheon of superphones!