Hands-on with Windows Mobile 6.1 Professional
22

During the Mobile World Congress, the first phones to officially run the (still unannounced!) 6.1 version of Windows Mobile were showcased. They are all actually using the
WM6.1 Professional
, which we preview here, and not the Standard edition, for phones without touch sensitive displays. However, the information that leaked on it hints it will also be released in future. In the following page, we will list "What's new" in the 6.1 Professional version.


Getting Started:
By default this menu appears in the home screen, housing a few LARGE fields with "help" information about setting your device up. It may be of help to some novice users and is handy, but is definitely not a great improvement.
Internet Explorer Zoom Out:
One thing we were excited about was the "Zoom out" function in the pocket Internet Explorer, fitting the whole page in the screen, in order to move your cursor around it (panning) and choose which area to zoom, instead of scroll while viewing it in real size. We thought this would put the IE closer to better browsers such as the Safari of the iPhone, but it is not so. The Zoom Out feature is very slow! We took YouTube for example, and it needed nearly 10 seconds; then we scroll down to see the rest of the page and it rendered for another 2-3 seconds. Additionally there are no other improvements of the browser and so, it remains usable, but mediocre. We, as customers, would have liked to see faster rendering, support for embedded flash objects, friendlier scrolling, and more.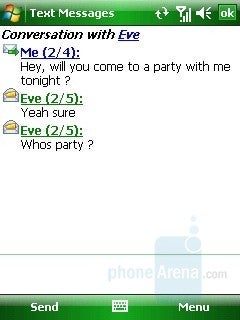 Text conversation
Threaded Text Conversations:
The OS will now group your messages to and from a selected contact, as a conversation. It visualizes each one as a line in an Instant Messenger log, with time-stamp. Once a conversation is started, it would appear in the Inbox and when new message is added, it would be marked as 'unread'. While not really great, this feature is nice and handy.
New Office:
Finally! Microsoft Office 2007 documents can be opened on Microsoft's own Windows Mobile OS, straight out of the box. An update was released last year for WM6 customers, but it will be preloaded with 6.1. In addition, OneNote Mobile is also part of the Office pack. The program is used for advanced notes, with options for formatting and adding images/sounds.
Other:
A
real Task Manager
is now preloaded with the OS, coming as separate applications. It gives information about the CPU % and Memory each application in the RAM uses. Managed programs allows the system administrator of the domain one is part of (such as a corporate server) to install applications remotely on the phone.