Hands-on with Skyfire browser
10

Smoke on the water, fire in the sky… This is what we first thought of when we decided to take a closer look at one of the promising mobile browsers and share our impressions with you. For those of you who have missed our numerous news of Skyfire, let us go over the basics in brief – it is free,
runs on Windows Mobile
(Standard and Professional) and
Symbian S60
devices and is server-based. At least in theory, the latter should make it the fastest browser on the market, since the web pages are processed by company servers that then send them back to you geared to your own specific device. In addition to lightning fast loading time, the browser aims to offer the ultimate "PC web experience" that also includes support for flash video websites, say
YouTube
or
Vimeo
.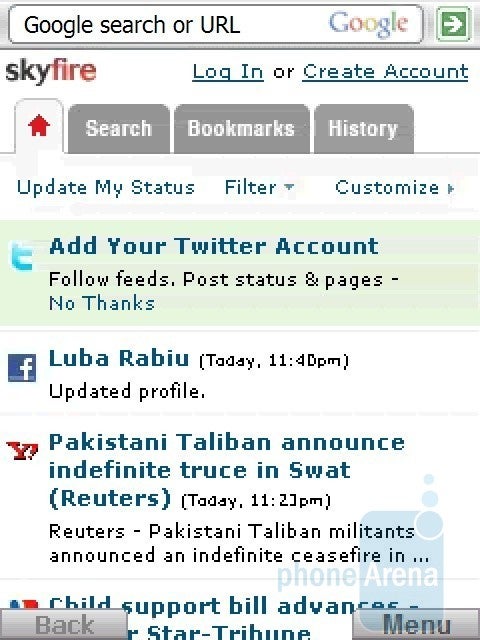 Inspired and hopeful by all the information, we took up on the task, got the
HTC Touch Pro
we happened to have at hand, quickly installed the 600 KB program and took off. We were made welcome by a pop-up message, saying it would be best if we made sure we were on an unlimited data plan, so as to avoid overwhelming surprises at the end of the month. We complacently ignored it and got to the home screen. Perhaps now is the right time to mention that we carried out our tests using EDGE, because of lack of 3G coverage. However, we do not think that this would have a negative impact on its speed, since the browser is claimed to be the fastest one to have ever come out on the market. Anyway, let's just get back to the home screen. It is divided into four tabs. The first one lets you read breaking news from Google, Yahoo and so on, as well as gives the option to control your Facebook or Twitter account (you are able to change your status straight away from this page). If you do, all messages from social apps will appear along with the news, but since all of them have different icons, you won't get mixed up. Fortunately, a few seconds later we found out this sub-screen can be customized. You are allowed to add more RSS feeds or switch off any stuff that´s not to your liking. Well done, Skyfire!
The second tab
allows Google searches and we consider it pretty pointless, since the address bar at the upper end of the screen does exactly the same thing (similarly to Google Chrome on the PC). Suggestions on what you may be looking for pop up very quickly as you type in characters. The results are then displayed on a personalized screen, where info can be filtered by local results, videos and images.
The
third tab
shows your bookmarks. There are default pages like Yahoo, Wikipedia, BBC news, Digg and so on that can be filtered by categories (sport, news, and video). You can add a new page through the "edit" option, where there are more listed pages, categorized in the same way. The last tab actually shows your browsing history and there is also a handy key that allows you to cover up your tracks.
Everything looks really, really good so far, right? Our first impressions of Skyfire turned out to be wonderful indeed. However, things changed a bit after we loaded our team´s homepage. This happened incredibly fast, but… why does everything look that blurry? We paid the eye doctor a quick visit to make sure it was not our eyes playing up on us. It turned out that we did have no eye related issues at all, but the page just looked as horrible as before, especially when compared to the way
Opera Mobile 9.5
and Safari visualized it. Just in case, we carried out another test with Skyfire running on the
Nokia E71
(Symbian S60) this time. Our website looked slightly better, but still, the standard Symbian browser offered much higher image quality. Apparently, the quick loading is implemented at the expense of proper page rendering. We contacted the Skyfire team about this one and they assured us that they are already working upon solving it and that we should see better results in future releases. Only half the page appeared rendered and we had to wait for the browser to load the rest of it when we scrolled down. Navigating was not that easy either. The "tapping" onto the screen we so much love when it comes to zooming, reading text or seeing the links clearly… was clearly missing here. Tap onto the screen once, to get the area that you can see enlarged framed, tap once more and you finally get it done, but everything happened way too slowly. Otherwise, navigating through a page by sliding finger is quite fast, because the browser first loads a pixelated version of the image before a clearer one, fit for being properly viewed.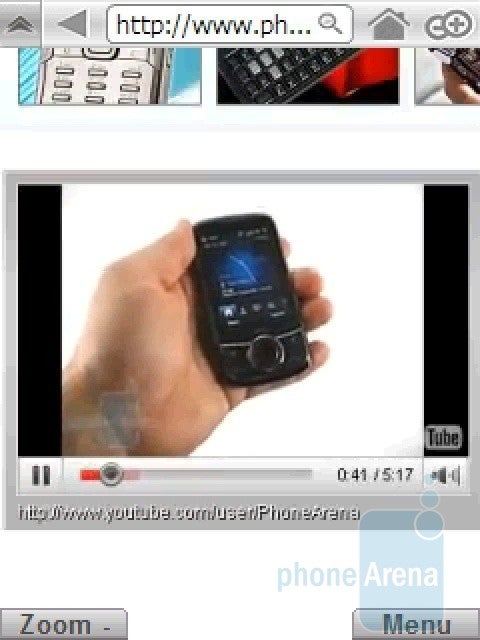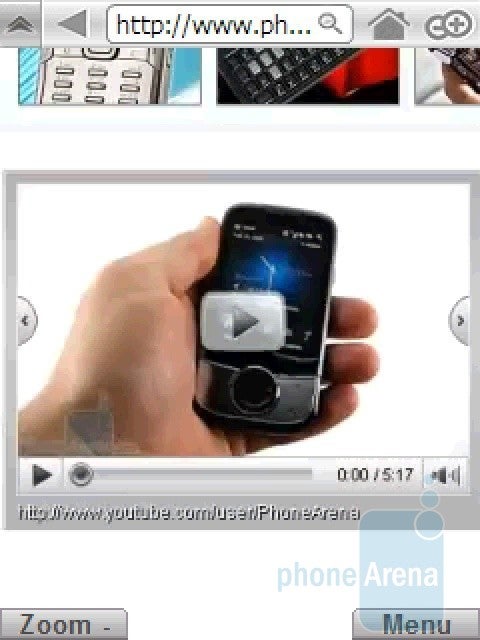 Skyfire's
main advantage is it allows you to view web sites with flash videos
, such as YouTube for example. We took a crack at one of the videos on our homepage and… it played perfectly – with sound and without a trace of lagging. Most importantly – although we were using EDGE, the five-minute video loaded fast enough did not pause. This is a wonderful feature we hope to see with all browsers in the future. This is precisely why we will be keeping our fingers crossed that each version of Skyfire will be better and better (let's not forget that this is still a beta version as of now). If navigation and page rendering are made better (blurry is so not cool in the age of HD), the App can really become an awesome mobile browser.
You can download the browser from here