Hands-on with Opera Mobile 9.5 Beta
14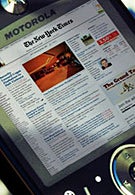 We've been looking forward to Opera Mobile 9.5's release since we first saw it back in February, in an official video demonstration. Similar to the current best mobile browser (Safari), Opera looked revolutionary for Windows Mobile application. A few days later, we were able to test it during the
MWC 2008
show and although it was a very early version, it left us with positive feelings.
the HTC Touch Diamond
) was released on the market. Later on, a few others came out (HTC Advantage X7510, Samsung OMNIA) but until today, the majority of WM devices were not able to use it officially. Now, that has changed and Opera offers the first Beta for download from its site, allowing everyone to test their product. Well, not exactly everyone since the current version is for Windows Mobile smartphones with touchscreens only. However, a variant for Symbian UIQ phones is also expected in the future.
Talking about YouTube, we must note one of Opera's biggest drawbacks – it cannot visualize flash videos. In the new version of Safari, available in the iPhone 3G, at least YouTube videos are recognized and are opened in a separate application. We hope that Opera will fix this mistake and add the option to preview any flash object in the browser. However, even after this remark, Opera Mobile 9.5 is an excellent browser and it is definitely
worth downloading (link to Opera site)
if you have a WM Professional device and care for using mobile Internet.
Don't forget to tell us if you like it or not
, and check out
our gallery
for more images.
Opera Mobile 9.5 Interface Demo: