Hands-on with Opera Mobile 9.5 Beta
14

We've been looking forward to Opera Mobile 9.5's release since we first saw it back in February, in an official video demonstration. Similar to the current best mobile browser (Safari), Opera looked revolutionary for Windows Mobile application. A few days later, we were able to test it during the
MWC 2008
show and although it was a very early version, it left us with positive feelings.
In the beginning of June, the first device to use it (
the HTC Touch Diamond
) was released on the market. Later on, a few others came out (HTC Advantage X7510, Samsung OMNIA) but until today, the majority of WM devices were not able to use it officially. Now, that has changed and Opera offers the first Beta for download from its site, allowing everyone to test their product. Well, not exactly everyone since the current version is for Windows Mobile smartphones with touchscreens only. However, a variant for Symbian UIQ phones is also expected in the future.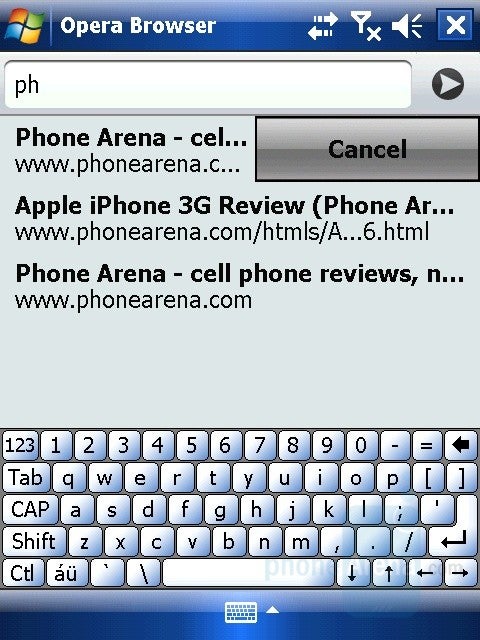 History
This version is very similar to the previous ones (found on the HTC phones) and we like it just as well. Clicking to enter an URL address, there is now a field for fast Google search. The moment you start typing, similar results will pop up from the browser history. By default, the pages render as on a computer (in the settings you can choose Mobile View option); they appear zoomed out enough to make most of their contents visible (even in large pages such as ours). After you decide which part to see, double tap on it and the browser will show it in real size. As the text shrinks, you will not have to scroll horizontally in order to read one of our reviews, for example. Pages almost always visualize correctly and it is rare that an object is on top of another one. The operating speed depends on the device in use, but even with our old HTC Wizard with TI processor at 200 MHz and modified WM6.1 OS, browsing a page is a pleasure, compared to doing it with IE. If you are utilizing a device that is not powerful enough, you may have to clear the RAM memory. In our case, after loading PhoneArena's homepage, Opera asked us to do it. If you open a few pages simultaneously (in tabs), you will need even more free RAM. However, don't be scared, because with a contemporary smartphone such as the i-mate 6150, we opened our site, YouTube and CNN in three tabs and experienced no problems.
Talking about YouTube, we must note one of Opera's biggest drawbacks – it cannot visualize flash videos. In the new version of Safari, available in the iPhone 3G, at least YouTube videos are recognized and are opened in a separate application. We hope that Opera will fix this mistake and add the option to preview any flash object in the browser. However, even after this remark, Opera Mobile 9.5 is an excellent browser and it is definitely
worth downloading (link to Opera site)
if you have a WM Professional device and care for using mobile Internet.
Don't forget to tell us if you like it or not
, and check out
our gallery
for more images.
Opera Mobile 9.5 Interface Demo: