Handheld Nautiz X1 claims to be the toughest smartphone in the world
11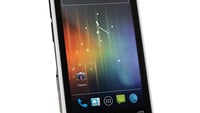 While some smartphones are made to impress with style and performance, others stand out with their durability and resistance to the elements. As you can probably tell, the Nautiz X1, which the Swedish company Handheld announced, belongs to the latter category. In fact, its maker claims that the X1 is the toughest smartphone in the world as it is waterproof, dust-proof, and shock-resistant. The smartphone has been given IP67 certification and complies with the 810G military standard, meaning that it can withstand a lot more abuse than an ordinary smartphone would ever be subjected to. Quite impressive indeed.
In terms of hardware, the Handheld Nautiz X1 doesn't offer anything we haven't seen already, but it is still miles ahead of what other rugged smartphones are equipped with. Inside it runs a dual-core processor clocked at 1GHz with 512MB of RAM, while its 4-inch WVGA screen retains its readability even in broad daylight. One can take photos and videos with its 5-megapixel camera and store the footage on its 2GB built-in memory, or on a microSD card. All of that is contained within a 15 millimeter body weighing 180 grams.
Of course, all standard connectivity features are supported, including Wi-Fi, 3G, Bluetooth, and GPS. Android 4.0 comes out of the box, but if needed, Windows Embedded Handheld 6.5 can be pre-installed instead. The standard battery has a capacity of 1530mAh, but an extended, 2920mAh cell is also available.
In case you want a Handheld Nautiz X1, you can pre-order one today. However, prepare to wait until January 2013 as that is when the smartphone is scheduled to launch for roughly $900.
Handheld Launches the Nautiz X1 Ultra-Rugged Smartphone
LIDKOPING, Sweden, Sept. 18, 2012 /PRNewswire/ -- Handheld Group( http://www.handheldgroup.com ), a Swedish manufacturer of rugged mobile computers, today announced the launch of its Nautiz X1 ultra-rugged smartphone. The Nautiz X1( http://www.handheldeurope.com/regions/eu/nautiz-x1.asp ) is the toughest smartphone in the world - it's waterproof, dust-proof and shock-resistant - yet it's also lightweight, very slim and smartly designed for both work and play.
"The Nautiz X1 is the toughest smartphone ever built, suitable for both field professionals and outdoor enthusiasts," says Jerker Hellstrom, CEO, Handheld Group. "Having manufactured truly rugged mobile computers for many years, ruggedness is in Handheld's DNA. This is no ordinary smartphone. With the Nautiz X1, we are providing a smartphone that delivers the reliability and sturdiness of an ultra-rugged computer."
The Nautiz X1's IP67 ingress protection rating( http://www.handheldgroup.com/regions/worldwide/what-is-rugged.asp ) means it's completely protected against dust and sand, and can withstand immersion in water. It also meets stringent MIL-STD-810G military standards for enduring humidity, vibration, drops and extreme temperatures.
Probably the lightest, slimmest rugged smartphone on the market, the Nautiz X1 weighs in at a mere 180 grams (6.3 ounces) and measures only 125x65x15 mm (4.9"x2.6"x0.6"). It has a 4-inch WVGA sunlight-readable and damage-resistant capacitive touchscreen.
The full-featured Nautiz X1 runs on a powerful 1 GHz dual-core processor and 512 MB of RAM, and comes with 2 GB of onboard storage. It provides reliable voice and high-speed data transmission over GSM or CDMA networks and connects to 802.11 b/g/n Wi-Fi networks. It also features Bluetooth, GPS, and a 5-megapixel camera, and comes with the latest Android 4.0 (Ice Cream Sandwich) or Windows Embedded Handheld 6.5 operating system. Different battery options will enable a full day's work under any condition or environment.
Like all of Handheld's line-up( http://www.handheldgroup.com/regions/eu/product-overview.asp ) of rugged PDAs, smartphones and mobile computers, the Nautiz X1 is specifically developed for field workers in industries such as geomatics, logistics, forestry, public transportation, utilities, construction, maintenance, mining, military and security.
But, Hellström adds, "Although our rugged computers are primarily aimed at our traditional business segments, we see an increased demand for truly rugged smartphones among consumers searching for a durable, but still stylish, smartphone. With the Nautiz X1, we can provide a cool, almost indestructible smartphone for both work and play."
The Nautiz X1 smartphone will be showcased at numerous exhibitions throughout the fall and will be available in January 2013. List price starts at EUR699/$899. Orders can be placed immediately.