HTC's button-less 'Ocean' smartphone is vividly imagined in leak-based renders
18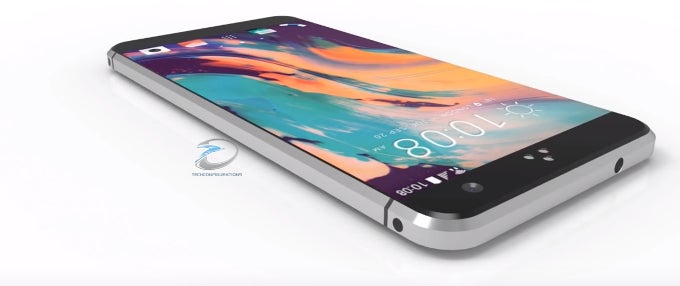 3D render of HTC's so-called 'Ocean' concept
Early last week, an HTC designer Danelle Vermeulen
outed a button-less 'Ocean' smartphone idea
. The concept design was quickly removed from Vermeulen's online portfolio but as we all know, the internet does not un-see. Thereafter, perpetual leakster
LlabTooFeR
quickly added that HTC
could roll out three such models
: the Ocean Master, Ocean Note and Ocean Smart. As we await further information, we now have some high quality, leak-based renders to peek at.
The idea of an entirely button-less device is rather intriguing one. The smartphone world has been all about the touch interface for the best part of a decade, but most handsets still retain a power button, volume rocker and often, a home button. The HTC Ocean series, from the little info we have so far, would include a touch-sensitive frame that could provide contextual functionality; a user could swipe and tap certain parts of the devices edge to accommodate and expand upon what's already provided by traditional buttons and switches.
The folks at
Tech Configurations
have put together some neat-looking renders of what the HTC Ocean might eventually look like, should it ever make it beyond the Taiwanese company's drawing board. The concept includes a chamfered edge finish, 3.5 mm jack, a USB Type-C port and two-rear facing cameras.
Though we know that the HTC Ocean is a real idea in theory, it remains to be seen whether it ever materializes as one, two, or perhaps even three new smartphones. In a market where devices are largely similar to one another, we'd certainly welcome a new, potentially innovative idea such as this.
Take a look at the concept images in the gallery, and be sure to leave your comments below.
Recommended Stories