HTC's Windows Phone 8X dedicated audio amplifier demoed, ready for your next tailgate party
14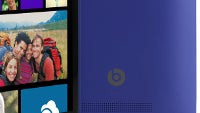 HTC mentioned in the press release that the
Windows Phone 8X
flagship it unveiled yesterday has a
dedicated audio amplifier
in addition to the Beats Audio shenanigans for the first time, which pushes the speaker and whatever is connected to the audio jack to their limits.
We didn't know what to think of that claim, as it was unlikely that audio output from a 0.39" thin phone can do wonders, but HTC has obviously put a lot of effort into this differentiating feature, and a video demonstrating what this additional 2.55v amplifier can do is pretty impressive.
As you can hear in the demo below, the music blasting through the speaker of the HTC 8X is pretty powerful for a handset, drowning the speaker's explanation almost entirely. This and the wide-angle front camera that does 1080p video on the 8X are HTC's obvious trump cards in the Windows Phone 8 battle.