HTC's Peter Chou says competitors "striking us with nuclear weapons", vows to go cold fusion
21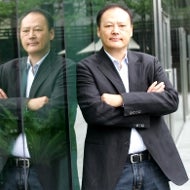 What's with the atomic bomb phraseology obsession in the mobile industry lately? First it became known that
Steve Jobs wanted to unleash a "thermonuclear war" on Android
for stealing his ideas, now Peter Chou calls Apple and Samsung's high-end devices "nuclear weapons"?
Speaking at the company's year-end event, HTC's CEO said literally that his company has started reorganizing itself around innovation in the last two quarters, because "
competitors are striking us with nuclear weapons
". Of course, he might have also meant the
Apple lawsuit
that is going to take a while to resolve, and is likely to cost HTC in the end.
Here is the full quote from his speech at the gala evening, aimed to rally the troops around
the challenges before HTC in 2012
:
Competition is good. Competition pushes us, helps us to change better and quicker. And we will be stronger. Our competitors are very strong...

They are striking us with nuclear weapons. But HTC is an excellent team and a strong army. A good soldier will not fear battles... We are not going to compromise our innovation. We are going to make our innovation a big idea, even bigger.
Most of HTC's Android handsets in 2011 seemed like a variation of the Sensation outed many months ago, with the only notable development being the
company's investment into the Beats Audio brand
, which results in flooding clips like Will.i.am's latest project with Jennifer Lopez and Mick Jagger with HTC and Beats Audio products positioning.
Peter Chou seems perfectly aware that the company needs to do more, so we'll keep our eyes peeled. One of the world's largest smartphone makers did come up with the
HTC Titan II
at CES last week, which is the first smartphone with a 16MP camera, so the company definitely has the technological prowess to keep things interesting. Now if only Peter Chou can go all Cold Fusion on the competition, thing will be well for HTC.
source:
FocusTaiwan
via
TNW