HTC throws a punch at Nokia: Lumia 920 is much heavier than the Windows Phone 8X
89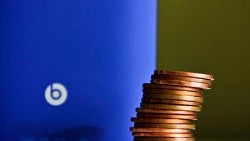 Lately, Nokia is the company throwing its swagger around and loudly proclaiming how much better its devices are, but HTC won't just stay and listen to its trash talk. Nokia's marketing head Chris Weber mocked the HTC event saying it takes more than matching the Windows Phone tile color to match the innovation at Nokia.
The Taiwanese phone maker didn't reply back at the time. Now, however, when the time comes for the launch of the new Windows Phone 8 devices, HTC is throwing a few punches.
How? Simple, it is accusing
the Lumia 920
"that 'other' Windows Phone" of being way too chubby.
"Don't get weighed down.
The HTC 8X is more than 20 pennies lighter than that "other" Windows Phone."
This slight jab is directed squarely at the
Lumia 920
's noticeable 6.53 ounces (185g) of weight. Compare this to the much lighter 4.59-oz (130g)
HTC Windows Phone 8X
and you'd see the difference is nearly an ounce and a half, as much as 20 pennies weigh.
Interestingly, Nokia seems to no longer be Microsoft's nearest and dearest partner. It is still an important one, but it seems that HTC has won Microsoft's heart with its 8X and 8S Windows Phones and the 8X is the phone Microsoft chose to feature prominently on Microsoft's Windows Phone website, while Lumias are displayed way down at the bottom.
source:
HTC