HTC reconfirms its commitment to Windows Phone, HTC Eternity and HTC Omega rumored
3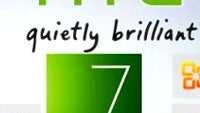 The head of HTC's European operations Florian Seiche reconfirmed for Reuters that the Taiwanese are dedicated to Windows Phone 7, despite Nokia adopting it as its primary platform.
"
It will not change our commitment to Microsoft. With a new player entering, it should actually help to elevate the relevance of that platform ... we actually feel that we should be able to benefit. The long-term opportunity with Nokia entering will definitely bring Windows back to critical mass.
", Seiche has said at the Global Technology Summit in Paris.
As if to prove his point, leaks about upcoming HTC Windows Phones started circulating. After we wrote about a
16MP HTC Bresson cameraphone with WP7
yesterday, today a source has leaked two more names and some specs. One is
HTC Eternity
, which will eventually come with 4.7" AMOLED display, 8MP wide-angle camera, DLNA and HDMI-out. The other is
HTC Omega
, which tones it down with a 3.8" SLCD display, same 8MP camera, and DLNA.
Both are powered by Qualcomm's third generation Snapdragon chipset, clocked at 1.5GHz, we assume dual-core, but nothing's confirmed. 4.7" AMOLED display doesn't seem very plausible, since even Samsung only has a 4.5-incher as the biggest smartphone AMOLED screen in the
Infuse 4G
. Samsung, however, should be opening its
AMOLED production plant soon
, which will increase its OLED displays output tenfold, so HTC might have some surprises in store for us, after all.
Still, there are no trademark patent filings for the names, or any other references about the HTC Eternity and HTC Omega, so until we hear more about them, we'd just take HTC's word that it remains committed to doing great things with Windows Phone 7.
source:
Reuters
&
WMPowerUser
Recommended Stories