HTC prototype of an LTE phone for AT&T breaks cover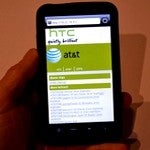 At the AT&T Developers Summit, the HTC crew seems to have been withholding on one precious nugget of information. They have had a working prototype of an LTE phone for AT&T's 4G network, which will start rolling out to markets in the second half of the year.
The phone resembled the
HTC Inspire 4G
, which in its turn is an AT&T rehash of the
HTC Desire HD
, meaning that the new Sense UI will be slapped on HTC's LTE phone as well. That resemblance means a 4.3" screen, but the person that handled it, says it seems a bit thicker than the 3G-only slabs.
What's more interesting, though, is that it was actually hooked up to an LTE stream, and tethered to a laptop, beaming 50Mbits, close to the theoretical 60Mbits maximum of this generation standard. The streaming was taking place in an enclosed and controlled environment, of course - on an overcrowded commercial network you'd get a tenth of that at times, but the sheer fact that an HTC LTE phone is in a prototype stage for AT&T, warms our hearts.
source:
PCMag