HTC: no, we didn't show our future smartwatch in our recent Design video
7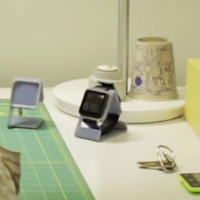 A couple of days ago, we told you about an
HTC promo video
that may have revealed the design of the company's very first smartwatch. However, it turns out that the watch seen in said video isn't a real product.
HTC's official statement regarding the mysterious wearable reads: "HTC encourages our design team to explore and tinker with new ideas and even models, as is the case with the watch some viewers noticed in our recent HTC Design video. It in no way indicates an actual product HTC is planning to release." The video - in case you haven't seen it - is embedded below.
Even if that's not a real product, it doesn't mean that HTC isn't working on smartwatches, and the company actually advises us to wait for the announcement of "exciting new products."
HTC talked about wearables plenty of times until now. Since it's one of Google's official Android Wear partners, we're certainly expecting the company to release at least one smartwatch in the near future, perhaps before the end of the year.
Last week, @evleaks revealed a render that allegedly showed
the design of an HTC smartwatch
, though for now we can't confirm anything.