HTC grabs "Device Manufacturer of the Year" award, thanks its user base for it
3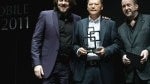 HTC won the "
Device Manufacturer of the Year
" award at the Mobile World Congress Expo, and said it owes the recognition to its thousands of dedicated employees, and its loyal user base. In the words of Peter Chou, HTC's CEO:
"
For HTC to be recognized by the industry in this way for the growth and success we have experienced in the last year is truly humbling. Thousands of people at HTC work tirelessly to create the intuitive and deeply personal smartphone experiences for which we have become known. This award is a measure of their passion and dedication. This award also belongs to the tens of millions of customers around the world who enjoy our phones and inspire us each day to create new innovative experiences. To those people, to our partners around the world and to the HTC family, you have my sincere thanks and congratulations.
"
We can't think of a company that deserves this award more. Everyone has a few devices with great designs, but HTC consistently strives for perfection with each and every phone of theirs. Even the lowly
HTC Smart
is built like a tank, feels solid and looks good, not to mention the high-end offerings with their aluminum unibody shells like the
HTC Desire HD
, or the
T-Mobile G2
. Keep up the good work, HTC!
via
HTCSource