HTC good times end: company posts first profit drop in two years
39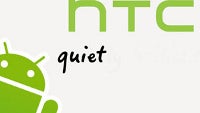 HTC has appeared basically out of the blue a couple of years ago and since then has continuously amazed us with some of the best Android devices out there, but in the last quarter of 2011 the strong Android competition finally took its toll.
HTC posted its first quarterly profit drop
and it comes in the traditionally strong Holiday quarter when companies like Samsung and Apple are expected to deliver record results.
Net income
in Q4 2011 slid 25.5 percent to NT$11 billion ($364 million) from NT$14.8 billion in the same period last year. This doesn't compare well with analysts' expectations for around NT$13.3 billion in profits. But the consequential drop is even bigger - in Q3 the company's income stood at the NT$18.7 billion.
HTC shocked investors in November when it cut its Q4 guidance, and its shares tumbled 28% in just two weeks. What's worse - investors are starting to worry whether HTC has the innovative muscle to get back in shape. Analysts agree that Samsung and Apple have challenged HTC's business, and it lacked focus in the low and mid-range parts of the market. What do you think are the reasons HTC's fairy tale is coming to an abrupt end? Let us know in the comments below.