HTC discounts the HTC 10 by $200 and throws in free wireless headphones
16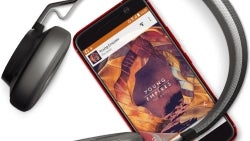 If $699 feels like paying too much for the HTC 10, now's your chance to sweeten up the price as HTC has reduced the tag by $200, down to $499, while throwing in a pair of wireless Jabra headphones for free. Just in time for some Christmas shopping, right? Luckily, the promotion covers all carrier and unlocked models, but only the unlocked one is available in the rather striking gold and red colors.
As for the headphones, they are the $60 Jabra Move, which is a solid pair of affordable wireless cans. A single customer can purchase up to four HTC 10 phones but gets only one pair of headphones, so be mindful of that. The deal will be up until Dec 20th, and the Jabra Move is in limited numbers, so take advantage of the deal on time.
In case you need a quick reminder of what the HTC 10 is about, this is a compelling all-metal smartphone with a 5.2-inch 1440x2560 resolution screen that's powered by the Qualcomm Snapdragon 820 processor with 4GB of RAM and 32GB of internal storage. It also comes with a 12MP rear camera and a straightforward, uncluttered Android interface. Read our review of the HTC 10 if you'd like to go through our impressions and in-depth information.
ALSO READ