HTC Windows Phone 8 devices might be coming in the third week of September
32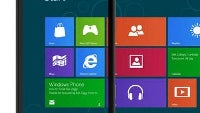 Just a few days ago we heard whispers about Nokia planning to introduce its first Windows Phone 8 devices sometime in September and now rumor has it that HTC is getting its first WP8 devices ready for launch later on, in the third week of September.

Going back to even earlier rumors, we've already heard that HTC is prepping three Windows Phone 8 devices. Two of them were known with their codenames Rio, Accord and Zenith, and the Zenith one is said to have a monstrous 4.7-inch 720p Super LCD 2 display, a quad-core Snapdragon chip and an 8-megapixel camera.
The Rio and Accord will have more modest specs. The Rio is said to be sporting a 4-inch WVGA screen and a 5-megapixel 720p camera, while the Accord will feature a 4.3-inch 720p display, an 8-megapixel camera capable of recording 1080p video and a dual-core processor.

We wouldn't be all that surprised if we hear the first WP8 device announcements in late September - after all, Microsoft is unveiling its mobile operating system this fall and it needs the devices to back it up.

Further details are scant, so we'd just have to make do with the approximate time frame and keep our fingers crossed we get some nice Windows Phone 8 devices - some variety won't hurt the mobile space, right?
Recommended Stories