HTC Vive orders are getting canceled by mistake
8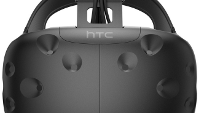 HTC was hoping that the introduction of the Vive VR headset would help turn the company around. Flowing red ink from every orifice in its corporate body following the flop that was the
HTC One M9
, the Vive era got off to a great start when
the company grossed $12 million in the first 10 minutes of accepting pre-orders
for the headset.
But a problem has developed. Processing issues with financial institutions have led to the accidental cancellation of Vive pre-orders. HTC is working with its customers and the banks and has already reinstated orders for a number of customers. The HTC Vive costs $799.99 and is scheduled to start shipping this coming Monday, April 4th.
If you received a notice stating that your Vive order was automatically cancelled, you should immediately call your bank or financial institution. And you might want to give HTC a call as well at (888) 216-4736. As we noted, HTC is expecting big things from the Vive. HTC co-founder and current CEO Cher Wang said back in January that "Smartphones are important, but to create a natural extension to other connected devices like wearables and virtual reality is more important."
"While fulfilling this week's orders for HTC Vive, a limited number of individuals were affected by auto cancellations due to processing issues with financial institutions. We're actively working to resolve this, and have already reinstated orders for some customers. We want to assure our customers that we'll work with them to process their payment so they can receive their Vive when they were expecting it. If you pre-ordered a Vive, we encourage you to contact your financial institution to notify them of upcoming charges."
Other companies like Samsung, Google offer various VR "hardware" and
with companies like McDonald's
and Coke
turning their packaging into VR viewers, it certainly seems that corporate America is drinking the Kool Aid. And that dovetails with Ms. Wang's comments about the importance of Virtual Reality to HTC's financial reality.
source:
AndroidCentral