HTC U12+ vs LG G7 ThinQ: first look
8
The LG G7 ThinQ has been making the rounds of late, being one of the latest flagships to enter the competitive Android space. Yet another entrant that opted to delay its offering, HTC, is just about ready to unleash what it's bringing to market very soon. The HTC U12+ is very much a worthy Android smartphone rich with specs, hardware, and beauty all on its side, but does it have enough to steer prying eyes away from the already coveted LG G7 ThinQ?
Design
Wow!! There's certainly a lot to love about the designs of both smartphones. For starters, they nearly match one another with their overall sizes, but the HTC U12+ does seem to be just a smidgen larger. Still, the two handsets feature all-glass constructions that allow them to dazzle under certain viewing angles. While the LG G7 ThinQ appears enticing with its vibrant color, we'll have to hand it to HTC for one-upping its rival with two particular paint jobs – translucent blue and flame red. These two color options are just undeniably different, indicating that HTC has paid more attention in how its flagship will be looked at by consumers, seeing that it's not often we find a translucent design in a phone – or one that shifts between two different colors!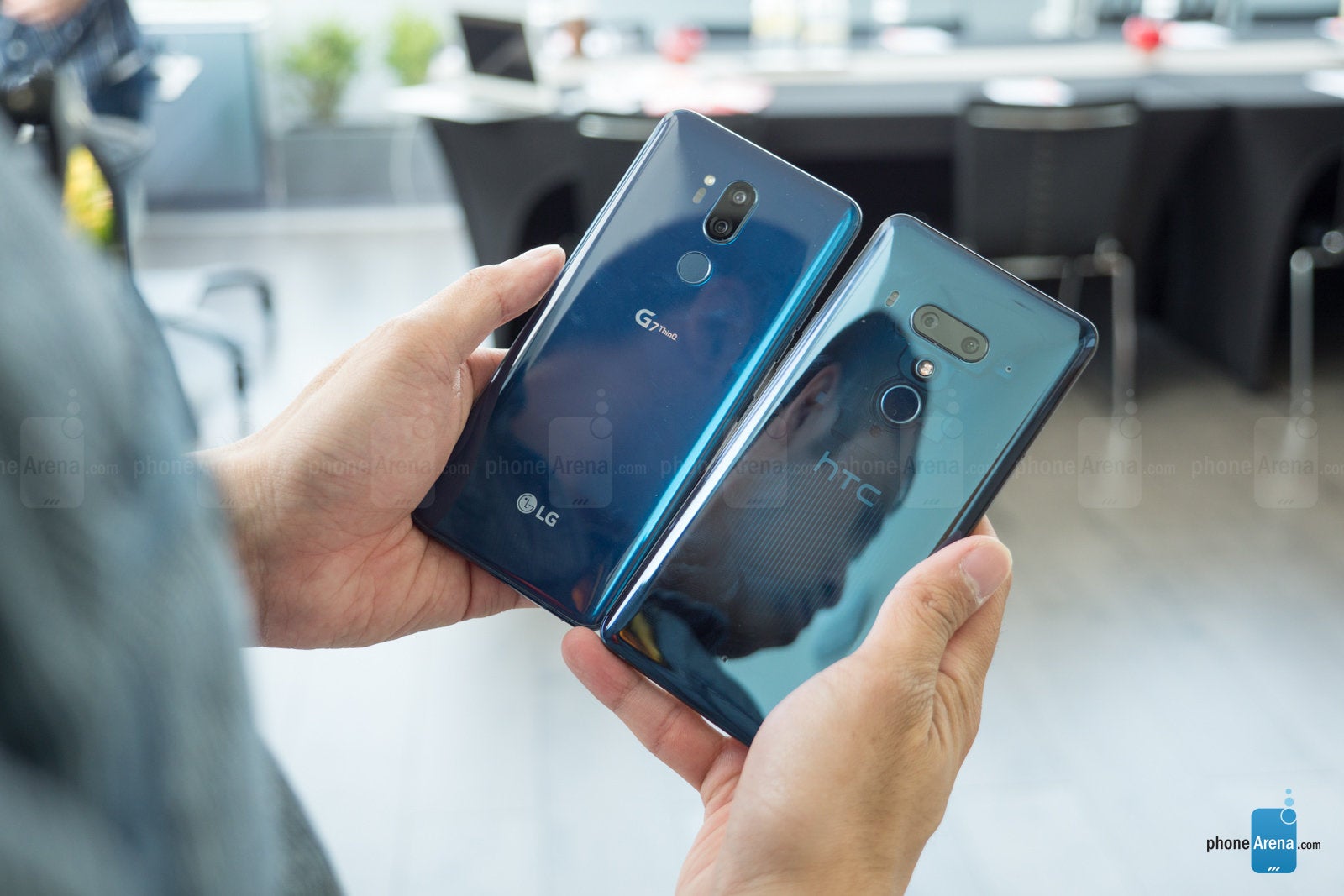 Aesthetically, the HTC U12+ easily captures our attention with its polarizing color options, but LG certainly doesn't disappoint either. That's because with all the hardware packed into its chassis, it's able to also include a 3.5mm headphone jack – something that's absent with HTC's design. In terms of their water-resistant constructions, both match each other equally with an IP68 certification. Sure, the LG G7 ThinQ's single speaker is amazingly powerful by itself, but we're eager to find out how it fares against the dual HTC BoomSound speakers of the U12+.
Display
Over in the specs department, the HTC U12+ features a 6-inch QHD+ (1440 x 2880) Super LCD 6 display, while the LG G7 THinQ presents us with a 6.1-inch QHD+ (1440 x 3120) FullVision Display. Without question, there's plenty of detail delivered by the two panels, despite the higher resolution of the G7 ThinQ – so there's not a single one that's vastly more detailed from a normal viewing distance. While the two displays radiate nicely when viewed straight on, the HTC U12+'s display exhibits more distortion when it's viewed at different angles. There's some degradation with the G7 ThinQ's panel, but it's not quite as noticeable as its rival.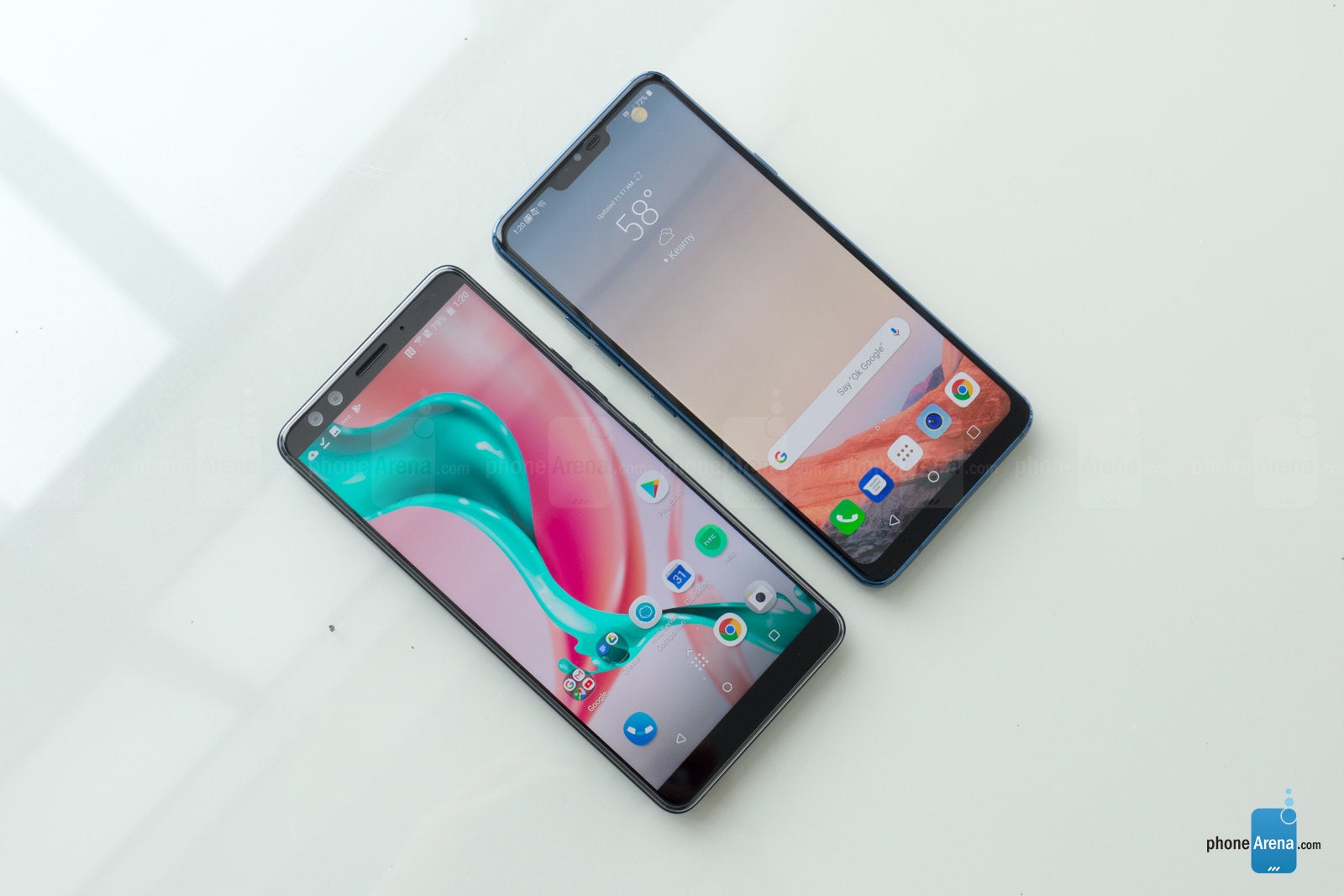 Then again, there's the matter of the G7 ThinQ's notch, which can be seen as a distraction of sorts to some people, but in our opinion, it's narrow enough to not become one – plus, there's a way to mask it. Hiding the notch on the G7 ThinQ, the bezels around the display seem to be very similar to what we see with the HTC U12+. Taking all of this to consideration, our eyes slightly favor LG's offering for right now, but we'll pass judgment once we can do some additional testing of our own.
User Interface
Superficially, both smartphones are running their slightly tweaked skins on top of Android 8.0 Oreo. While they fundamentally achieve the same core Android experience, they're shaped by some of their novel features. For the HTC U12+, that includes its Edge Sense features where "squeezing" the phone performs different functions – as well as the addition of the new double tap feature. Meanwhile, the G7 ThinQ taps into the world of artificial intelligence, with its integration in places like its camera, voice assistant services, and home appliances. It's difficult to say which of the two experiences we prefer at the moment.
Much to no one's surprise, these two titans in the Android space are armed with the very best from Qualcomm's camp – the Snapdragon 845 SoC! The LG G7 ThinQ is accompanied with 4GB of RAM, but the HTC U12+ is more generous with its 6GB of RAM. Even though some would be quick to write off LG's offering, the two handsets appear to match one another with their finesse in handling the base functions of a smartphone, so we're curious to know which of the two will actually come out on top when it comes to benchmarking. Both phones start off with 64GB of internal storage, which can be supplemented by their microSD card slots.
Camera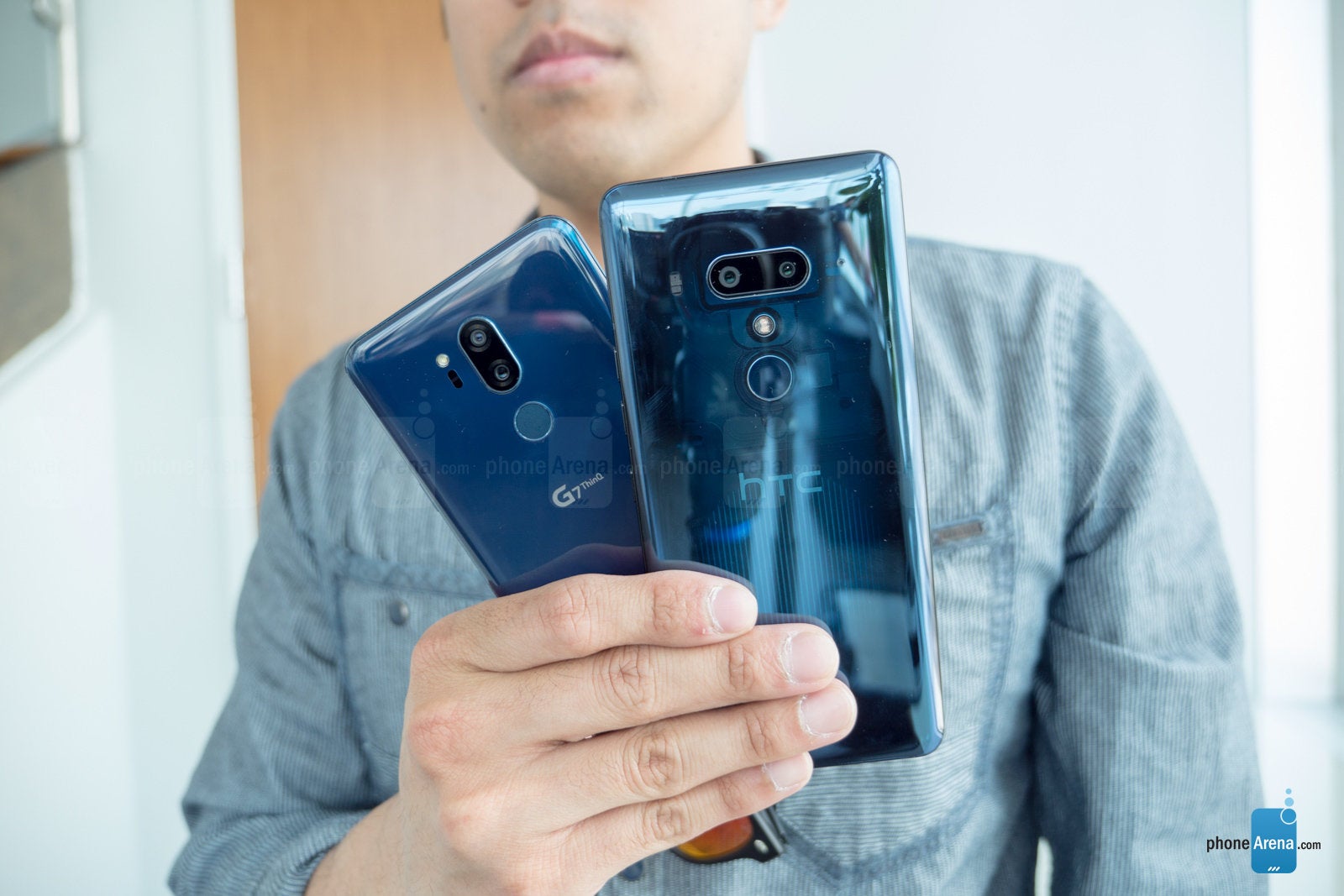 HTC is finally in the dual-camera realm with its latest flagship, as its pair breaks down to a 12MP wide-angle f/1.76 UltraPixel sensor and a 16MP 2x optical zoom one with an f/2.6 aperture. In contrast, the LG G7 ThinQ features a pair of 16MP sensors broken down to a main 71-degree f/1.6 lens and a wide-angle 107-degree f/1.9 one. Interestingly enough, we basically have a phone that presents us with a telephoto option – while the other offers a wider-angle capture. However, it should be noted that the two are able to capture portrait shots with their respective dual-cameras.
It's really tough to say which of them we like better, but for hardcore enthusiasts who are very particular about the composition of their shots, they may want to gravitate to the LG G7 ThinQ because of its rich manual modes and Cine effects. Don't get us wrong, the HTC U12+ does present itself with some meaningful modes, but LG's interpretation is far more advanced. It's also apparent when it comes to shooting video, as the G7 ThinQ is one of the few on the market to present users with true manual video controls.
Indeed, there's a compelling reason for one to choose the LG G7 ThinQ over the HTC U12+, but it'll ultimately come down to performance. For all of options and modes that are at our disposal with the G7 ThinQ, if the HTC U 12+ delivers the better results at the end of the day, it may prove to sway consumers in the long run.
Battery
Usually when there's a huge disparity between battery capacities, most people typically would be led to believe that the high capacity one would prove to deliver longer results, but that's not necessarily the case. The HTC U12+ packs on a 3500 mAh battery cell, which is higher than the LG G7 THinQ's 3000 mAh capacity, but we'll have to pass judgment once we're able to put the HTC U12+ through our usual array of battery tests. It's worth mentioning, though, that the HTC U12+ lacks wireless charging, which is a convenience that's available with the LG G7 ThinQ.
Expectations
LG and HTC have been in similar situations of late, as these two former goliaths in the space have been trying for the last several years to achieve that status of being the third dominant player in the smartphone space. Their flagships seem technically impressive on so many levels, but a lot of what'll attract attention from consumers is pricing.
Currently, the LG G7 ThinQ is slated to sell for around the $750 ballpark range at full retail price through various carriers here in the US – while the HTC U12+ will be priced higher at $799. These aren't necessarily cheap handsets we're talking about, but it's going to be a slightly tougher sell for the HTC U12+ considering how the G7 ThinQ does feature wireless charging and a headphone jack. Add to that, these two basically match each other spec-by-spec, so it's going to be a slightly tougher sell for the HTC U12+. Then again, its eye-popping new paint jobs might be just the kind of thing to get consumers to pay attention to it over the G7 ThinQ.