HTC Trophy will be a global device, according to a leaked Verizon document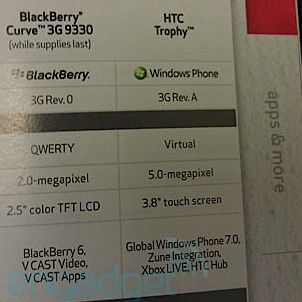 A couple days ago, we told you about the
short-lived presence
of the HTC Trophy on Best Buy's website. And while the Trophy isn't exceptional among the WP7 lineup, it is exciting to see it on Verizon. Verizon's enormous customer-base might be just what
Windows Phone 7
needs to round the corner into mass popularity.
And now an anonymous tip has us even more excited.
A leaked Verizon document shows that the HTC Trophy will be a global device
. Combining global capability with both Verizon's and Microsoft's reputations could make the Trophy incredibly popular among Verizon's business users.
And with corporate acceptance might come the large-scale adoption that Microsoft has been craving. The only question might be the level of promotion which
Verizon
is prepared to offer. They've devoted so much attention to their beloved Android lineup, and now their iPhone, that we might not see as much collaborative marketing as Microsoft would like.
source:
Engadget