HTC Titan Hands-on
57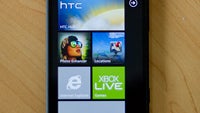 It looks like HTC is determined to stay at the forefront of the Windows Phone 7.5 advent. With today's announcement, HTC unveiled not one, but two well-spec'd Mango-powered handsets, in the form of the
HTC Titan
and
HTC Radar
. Obviously, the much beefier of the two is the HTC Titan, which incorporates a pretty respectful list of features, the most impressive of which being its gigantic 4.7" screen. No, that wasn't a typo.
The aptly named HTC Titan will treat you to one of the largest screens to ever grace a phone, with an eye-watering 4.7" of WVGA LCD, not to mention a 1.5GHz processor, 512MB RAM and 16GB of internal memory, as well as an 8MP camera with a dual-LED flash. While the screen size immediately draws comparisons with so-called "mini-tablets" like the Dell Streak, as you can see from the comparison shots and in the video, the Titan definitely feels markedly smaller and is distinctly a phone and not a tablet thanks to HTC's attentive design. Although a resolution of 480x800 starts to feel a bit low for such an enormous screen, unfortunately, right now this is a limitation of the OS.
The 8MP camera on board shares the same f/2.2 lens as found on the HTC Radar, with touch to focus and a range of camera modes added to liven up the picture taking experience, such as stitch assist panorama mode and the vintage filters found on Android HTC devices of late. Gauging from the quick hands-on we had, the macro functionality was spot on, focusing every time with good levels of detail, however exposure seemed a bit off on the odd occasion. We look forward to getting a sample unit so we can deliver a thorough review, however we did manage to get a few sample shots which you can check out in our
dedicated post
. As far as the build goes, the HTC Titan is remarkably thin considering its size, and feels solid to the touch with good weighting and a decent amount of grip on the reverse. So despite an under-whelming screen resolution, it's a real treat to see a Windows Phone 7.5 device that not only stands out from its OS peers, but also from any other handset on the market.
In terms of specific software features that have found their way to the HTC Titan, it does seem like users have what to look forward to. For starters, the HTC Hub has a more 'HTC Sense' like feel, giving you access to weather, RSS feeds and stocks all through a horizontal swiping mechanism accross a series of widget-like screens. Connected media has also been added offering DLNA functionality, as has HTC Watch, enabling movies purchased through the service to be shared across multiple HTC devices using the same account. All of these, when coupled with the knowledge that HTC is making somewhat extreme hardware, clearly demonstrate the Taiwanese manufacturer's determination to stand out in the ensuing Windows Phone 7 battle, especially in the wake of Nokia's next move. Will its efforts prove to be enough though, remains to be seen.
HTC Titan and Radar Hands-on:
Recommended Stories