First camera samples from the HTC Titan
8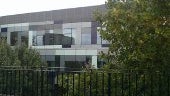 HTC's newly-unveiled Windows Phone Mango phones are quite impressive, but how good are their cameras, we wonder? Could that f/2.2 lens really make a difference? But of course, why should we waste time wondering when we can just take a few samples and see?
Well, that's what we did with the enormous HTC Titan, which is equipped with a not that modest 8-megapixel shooter. In what are probably the very
first camera samples with the Titan
out there, we actually observed some quite pleasant detail levels - images are neither blurry, nor are they overly-sharp. Thankfully, colors are also pretty close to reality. What bothered us though was the exposure, which, in some images, is quite weird.
Of course, we'd rather hold off from any conclusions just yet, because we would rather wait until we can play a little more with the handset, and get the chance to take photos in some more diverse locations and environments. At least though, it looks like there might be some good stuff in that f/2.2 lens, as our indoor pics didn't feature too much noise in the mid- to relatively low-lit areas.