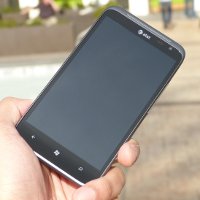 Just when we thought AT&T customers were getting their sweet fill with the
HTC Titan
, out of nowhere, its very quick successor came storming onto the scene at AT&T's Developers Summit. Yeah, we know what you Titan owners are feeling right now, but that's just the nature of the industry – out with the old (really fast), and in with the new.
Quickly holding onto the Windows Phone Mango smartphone, our first impression right from the bat is its stark similarities with its predecessor – like it's larger than life presence and solid industrial design. However, it's rather underwhelming to say the least, namely because it doesn't try to go beyond what we've seen already. Nevertheless, we're pleased by its always quality design and construction, which is strengthened by its metallic casing and soft touch coating. Still, it may prove to be too much of a gargantuan device from some people – though, its weight feels rather good for a device of its size.
Again, we're presented with an insanely large 4.7" Super-LCD display, which seems to have the same WVGA (480 x 800) resolution as before. Yes, it's obviously generous with its real estate, but its brightness output doesn't seem potent enough to withstand the harsh view of the sun. Under the hood, the Titan 2 features a 1.5GHz single-core Qualcomm Snapdragon processor, which, as always, is ever plentiful in offering a responsive and smooth performance. And to sweeten the load, it's blessed with 4G LTE connectivity to bring Microsoft's shiny platform up to par with the others in terms of data connectivity.
However, the star of the show with this baby is its demanding
16-megapixel auto-focus camera
in the rear, which features a dual-LED flash, wide-angle F2.6 lens, backside illumination, and image stabilization. For all the talk, it seems very impressive on paper, but on the other hand, its 720p video recording is rather dull – especially in the world of 1080p recording. Regardless of that, it's filled to the brim with some photo-taking centric things that will appease a wide-range of people.
to see more pictures, check out our gallery full of
HTC Titan II sample photos
So far, there's no word on when this beastly phone is coming out, but it's reported to come out in the coming months. Well, at least that's some time away from the debut of the original HTC Titan. Moreover, pricing has yet to be revealed.