HTC Titan II camera samples - how the 16-megapixel photos look
24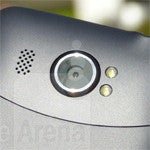 The
HTC Titan II
has an impressive camera resolution - it is not 8-megapixel, nor is it 12-megapixel. It's actually the impressive
16 (sixteen) megapixels
! It produces pictures with resolution of 4640 x 3480 pixels - WOW. However, as we always say - resolution is not everything. Actually, the bigger resolution is helpful only once you need to print in bigger size. Or when you want to crop a small part of the image and zoom it. What we really care about is the actually quality.
During CES 2012, we had the chance to snap some sample photos with the HTC Titan 2. We've taken them at the full 16 megapixels and we share them with you here. For comparison, we've used a 12-megapixel point-and-shoot camera (Canon PowerShot ELPH 300 HS).
So what is the result like? GREAT. Check it on your own. Still, we should note that we'd have liked it more if indoor shots were a bit better. We're eager to review the Titan II so we could take pictures in various conditions, and see how it performs. But we have something really good here.
*Note that the unit that we used to take these samples may not be a final, retail one. What this means is that the Titan 2 may be even better once it hits the shelves
.
Now, compare these to a pocket point-and-shoot 12-megapixel Canon:
(Please excuse us for the wrong date stamped on these...)
So, what do you think? Are you impressed? Did you expect more? What do you like and dislike?