HTC Sensation Hands-on
27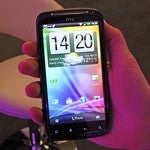 HTC fans have been feeling left out of the dual-corathon that's been taking over the likes of Samsung, LG and Motorola in the past months. While MWC saw them up the ante to 1.5GHz in their
Flyer tablet
, their phones topped out at 1GHz. Queue the
HTC Sensation
- a
1.2GHz dual core
goliath with a
4.3
" screen with a resolution of 540x960. Throw an
8MP
camera with 1080p video recording into the mix and our appetite is well and truly whet.
With its 16:9 aspect ratio, there really is no doubt where this handset excels. Bright and vibrant, the SLCD technology tantalizes, while the beautiful curved glass beveling adds a subtle sense of quality.
The styling of the handset is somewhere between an
HTC Mozart
and an
EVO 4G
. With the unibody chassis, the battery cover is the entire back and encroaching on the front - nesting the device snugly. Despite being an aluminum unibody, it doesn't feel as dense as the
Desire S
or
Nokia E7
for example, and is indeed lighter than we anticipated it would be.
Multimedia is an area the Sensation also titillates - the 8MP camera with instant capture (reducing shutter lag), Full HD video capture (with on-board trimming software) and a qHD screen are just the start. HTC also offers its Watch service so you can rent or buy top quality movies encoded to the phone's screen specs for the ultimate viewing experience.
Everything flew when we thumbed through the HTC Sensation, menus were quick, video playback didn't stutter and it certainly delivered a great first impression. The new lock screen is intuitive, allowing shortcuts straight to applications of your choosing. In addition, you can find a preloaded Swype/Slide It style on-screen keyboard, if you're into that kind of stuff.
We can't wait to get our hands on a working device, and with a May release (at least in Europe; the T-Mobile US version comes out in the summer), shouldn't have to wait too long. Our beady eye will be on battery life. If HTC has made this better than the Desire HD on that front, this handset may well be the Sensation HTC is hoping for.
HTC Sensation Hands-On Video: