HTC Radar Hands-on
19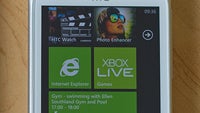 With little more than a whisper, Windows Phone 7.5 (aka Mango) hit the market, and on a Fujitsu handset no less. Going back in time further, since the Mango unveiling by Microsoft all those months ago, things have been very low key over at Redmond in terms of publicity. Things however are about to change as it's the turn of the hardware manufacturers to let their new releases out of the bag and get some Mango back on the radar, literally. HTC is at the front of the pack with two contrasting handsets – the
HTC Radar
and
HTC Titan
. The more mainstream one of both, the Radar, is being a reliable, tried and tested combination of specs and screen size.
Lets start by talking you through the blips on HTC's Radar, the manufacturer's mid-range contender whose styling borrows heavily from the HTC Flyer while its spec sheet borrows from, well, the HTC Trophy unfortunately, with a few welcome improvements to the camera and industrial design. For starters, the handset couples a 3.8" LCD display with WVGA resolution. There's a 1GHz Qualcomm processor along with 512 MB RAM and 8GB of internal memory on-board. All sounding pretty uninspiring thus far? Well don't write off the HTC Radar just yet, above and beyond having Mango out of the box, HTC has included an f/2.2 lens as found on the myTouch 4G slide to the Radar's 5MP camera, improving results specifically when shooting in low-light (check our
first samples with the Radar
). The styling of the HTC Radar will divide critics in much the same way most white phones tend to, however the handset's unibody construction is undeniably solid and rich to the touch. So while HTC's Radar isn't going to blow anyone over with its specs, if the price is right, it could end up being a popular mid-range device for HTC.
We'll wrap up by highlighting a few software features HTC has hard-wired into the Mango-running Radar. For starters, HTC Hubs has a more 'HTC Sense' like feel, giving you access to weather, RSS feeds and stocks all through a horizontal swiping mechanism across a series of widget-like screens. Connected media has also been added offering DLNA functionality, as has HTC Watch, enabling movies purchased through the service to be shared across multiple HTC devices using the same account. All of these, when coupled with the knowledge that HTC is making somewhat extreme hardware, clearly demonstrate the Taiwanese manufacturer's determination to stand out in the ensuing Windows Phone 7 wars, especially in the wake of Nokia's next move. Have they done enough? Only time will tell. As of now, sadly, information about the eventual release date and pricing for the Radar is unavailable, but we hope that the manufacturer will soon announce such.
HTC Titan and Radar Hands-on: