First camera samples from the HTC Radar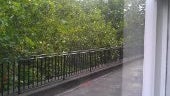 While we were tinkering with HTC's upcoming WP 7.5 smartphones, we thought that we actually won't do any harm if we quickly snap a few pictures of some stuff around... you know, just to see what will come out.
So here are the very
first camera samples from the HTC Radar
! Okay, let's take a look... We mostly managed to take indoor photos, where light is usually somewhat limited, as you know. But considering the f/2.2 lens, which the Radar is equipped with, we expected it to handle such situations fairly well. Indeed, we find the pics pretty decent. We're glad that we do not observe excessive amounts of noise. The images look reasonably clean, with natural colors and decent level of detail. Our macro shot also turned out satisfying.
So there you have it! Check out the pics, we believe they are pretty decent, but would rather wait until we can spend more time with the device, and take shots in more diverse environments, in order to truly test that 5MP camera.