HTC One vs iPhone 5 – first look
48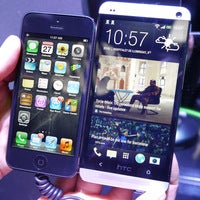 The
HTC One
and the
iPhone 5
are two very impressive devices. They both have this magical aura around them that makes you want to hold them, touch them and of course, own them. Most of that appeal comes from the fact that the two handsets are very well made. Aluminum is used for the construction of both smartphones, which gives them a very solid, premium feel.
Both handsets fit nicely in the palm, but we have to give the iPhone 5 credit for being easier to operate with a single hand. It is also much lighter - lighter than the great majority of all high-ends out there, although we have to admit that the HTC One definitely doesn't feel heavy for its size.
Another factor that comes into play is that the screens on both smartphones are of high quality. However, while the iPhone 5 uses a 4-inch, 640 by 1136
pixel
display, the HTC One is blessed with a 4.7-inch 1080p panel. Without a doubt, the size advantage and higher resolution of the latter will make it more desirable for power users and smartphone enthusiasts. Still, plenty of users, especially the ladies, are likely to be more than happy with the iPhone 5's smaller display. As far as resolution and pixel density is concerned, both displays have more pixels than the average eye would make out.
The brains of the HTC One is the quad-core Snapdragon 600 SoC - one of Qualcomm's latest and greatest chips made for smartphones and tablets. The iPhone 5, on the other hand, is powered by Apple's own dual-core A6 chip. But despite the difference in core count, both processors are powerful enough to offer excellent performance regardless of what you're using the phones for.
Without a doubt, the software that runs on any smartphone, regardless of its make and model, has a tremendous effect on user experience. In the case with the HTC One and iPhone 5, the former is powered by Android Jelly Bean with a new version of Sense UI running on top, while the latter runs Apple's proprietary iOS 6 platform. We're already familiar with the latest Sense iteration and we can say that we dig its minimalist approach. It isn't quite as simple, however, as the user interface of iOS, which is designed in a way that anyone will quickly get the hang of it. But don't get us wrong since Android has quite a few advantages that must be noted, such as its greater flexibility as far as customization is concerned. Furthermore, folks who like staying on top of things should find the new Sense UI quite practical with its BlinkFeed feature. In a nutshell, it compiles a stream of news and updates on topics that the user is interested in, and that stream is available the very instant you start using the handset.
So there you have it, guys! HTC has crafted an excellent smartphone that truly deserves its place in the high-end realm. Whether it is any better than the iPhone 5 is a bit early to say, but at a glance they both seem to be at the same level as far as performance, user experience and design are concerned. Chances are that no matter which one you pick as a daily driver, you'd be pretty satisfied with your choice.