HTC One max vs Sony Xperia Z Ultra vs Samsung Galaxy Mega 6.3 specs comparison: phablet heat
24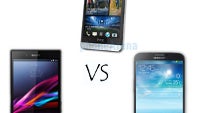 Some people can't ever be seen with a phone larger than the size of a 5-incher, some say once you've tried an even biger screen you can never go back, but how about them ~6" monsters, to which we just added the
HTC One max
.
The phablet certainly meets its much in the face of the
Xperia Z Ultra
as you see from the specs below, as with its 6.3" screen diagonal Sony's phone is encroaching on a tablet territory as it is even taller and wider than the One max, which in its turn is one gigantic handset, as you can see when held by smaller hands. Thankfully, the Z Ultra is ultra thin, too, which will remedy the situation a bit, and it even weighs about the same, but adding a waterproof chassis to the mix.
HTC strikes back with aluminum body and a unique fingerprint scanner that lets you unlock the device or launch apps with your fingerprints. On the bottom of the 6" pyramid, albeit not by screen diagonal is the
Galaxy Mega 6.3
with its decidedly lower midrange specs for quite the price, and a body that is taller and much wider than the elongated HTC One max with its BoomSound speakers at the front with dedicated amplifiers.
Super Clear LCD
TFT
S-LCD 3
Ambient light sensor, Proximity sensor
Scratch-resistant glass, Ambient light sensor, Proximity sensor
Ambient light sensor, Proximity sensor
Qualcomm Snapdragon 400
Qualcomm Snapdragon 800 MSM8974
Qualcomm Snapdragon 600 APQ8064T
Dual-core, 1700 MHz, Krait 300
Quad-core, 2200 MHz, Krait 400
Quad-core, 1700 MHz, Krait 300
Adreno 305
Adreno 330
Adreno 320
Android (4.4.2, 4.2), Samsung TouchWiz UI
Android (5.1 Lollipop, 5.0 Lollipop, 4.4, 4.3, 4.2.2)
Android (4.4.2, 4.4, 4.3), HTC Sense UI
18.00 hours
the

average

is 17 h (996 min)
14.00 hours
the

average

is 17 h (996 min)
28.00 hours
the

average

is 17 h (996 min)
19.0 days (456 hours)
the

average

is 20 days (472 h)
36.2 days (870 hours)
the

average

is 20 days (472 h)
16.4 days (393 hours)
the

average

is 20 days (472 h)
17.00 hours
the

average

is 19 h (1110 min)
16.00 hours
the

average

is 19 h (1110 min)
25.00 hours
the

average

is 19 h (1110 min)
17.5 days (420 hours)
the

average

is 0 days (0 h)
34.2 days (820 hours)
the

average

is 0 days (0 h)
24.4 days (585 hours)
the

average

is 0 days (0 h)
16.2 days (390 hours)
the

average

is 0 days (0 h)
29.2 days (700 hours)
the

average

is 0 days (0 h)
Single camera
Single camera
Single camera
8 MP (Autofocus, CMOS image sensor)
8 MP (Autofocus, BSI sensor)
4 MP (Autofocus, BSI sensor)
Aperture size: F2.0; Focal length: 28 mm; Sensor size: 1/3"; Pixel size: 2 μm
1920x1080 (Full HD) (30 fps)
1920x1080 (Full HD)
1920x1080 (Full HD) (30 fps), 1280x720 (HD) (60 fps)
HDR, Picture-taking during video recording, EIS
HDR, Continuous autofocus
1.9 MP
2 MP
2.1 MP
1920x1080 (Full HD)
1920x1080 (Full HD) (30 fps)
6.60 x 3.46 x 0.31 inches (167.6 x 88 x 8 mm)
7.06 x 3.63 x 0.26 inches (179.4 x 92.2 x 6.5 mm)
6.48 x 3.25 x 0.41 inches (164.5 x 82.5 x 10.29 mm)
7.02 oz (199.0 g)
the

average

is 6.5 oz (184 g)
7.48 oz (212.0 g)
the

average

is 6.5 oz (184 g)
7.65 oz (217.0 g)
the

average

is 6.5 oz (184 g)
Back: Glass
Back: Aluminum
Notification light
Touch sensitive control keys