HTC One X for AT&T, Rogers and HTC EVO 4G LTE overclocked to 1.8 GHz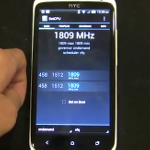 For those who are unhappy with a dual-core 1.5GHz Qualcomm S4 processor, you can
speed things up by overclocking the device
. For example, the dual-core processor on the AT&T HTC One X, the Rogers HTC One X and the HTC EVO 4G LTE can be overclocked to 1.8GHz. The new Kernel module will allow you to take that Qualcomm MSM8960 and speed it up past 1.8GHz using applications like SetCPU, which means you need to be careful. Overclocking can put unwanted stress on your device all for the sake of what, rendering a web site a few seconds faster?
We don't have to remind you that
you should know what you're doing before overclocking your phone
. You could brick it, lose the warranty, and have a
stupid friend try to fix it by putting it in the microwave oven
. Also, it could mess with the earth's inner cellular clock and destroy the planet. But hey, Angry Birds plays faster so what the heck. Actually, we're just kidding about the destruction of the earth, but not with the destruction of your phone.
For those with the HTC One X, check out the first sourcelink while those with the HTC EVO 4G LTE should click on the second link. As usual. if you go ahead and take the risk, let us know how it turns out for you. You might even
give us some benchmark scores
from your overclocked device.
source: XdaDevelopersForum (
1
), (
2
) via
PocketNow