HTC One M9 vs Samsung Galaxy S6 edge: vote for the better smartphone!
93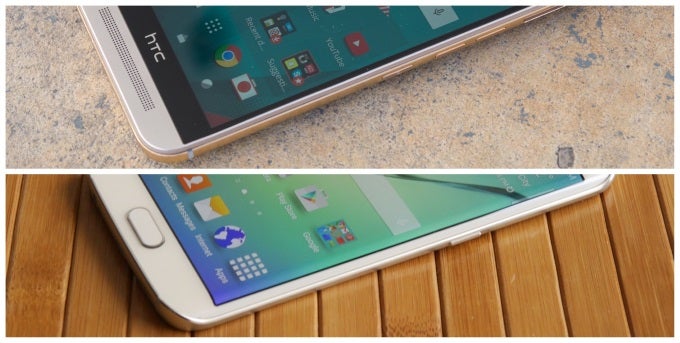 Introduction
The Samsung Galaxy S6 edge and HTC One M9 are two of 2015's hottest devices with their seriously impressive looks and top shelf components. These two in particular have been getting lots of attention lately, so we thought we'd toss the question to you, our passionate readers - which one is the better smartphone? Which one is more beautiful to look at, more enjoyable to use, and better for taking photos? We'll examine how the HTC One M9 fares against the Samsung Galaxy S6 edge in the all-important Design, Display, User Experience, and Camera departments, and we'll ask you to vote for your favorite in each category. And a week later, we'll check out how the voting went. May the best one win, folks!
Design
The One M9 follows HTC's well established all-metal design line, and it does so in a safe, reliable way. At first sight, it's a bit difficult to tell the M9 and its predecessor apart, but at some point you will surely notice that the M9 looks more like it took the best elements of the HTC One (M7) and One (M8) for itself. With ancestors like these, there's no way the M9 could possibly turn up ugly.
That was a real possibility for the Samsung Galaxy S6 edge, though, because it had a less attractive set of design DNA patterns to tap into. However, Samsung drastically improved its smartphone design throughout the later half of 2014, and the GS6 edge is the culmination of these efforts. The plastic chassis is succeeded by a body constructed out of aluminum and Gorilla Glass 4. The GS6 edge is remarkably attractive, but it has to be noted that the curved side displays - arguably its largest design hallmark - are there mostly for show, not so much for function.
Ergonomics is another important design component. For the One M9, HTC came up with a new, slightly gripper finish to counter its predecessor's slippery tendencies. The Samsung Galaxy S6 edge has a bit of a problem with that, because it's all covered in glass, and that glass is a mean fingerprint magnet too!
The S6 edge is remarkably attractive, but the side displays are just for show.
As for compactness, with its 5.69 x 2.74 x 0.38in (144.6 x 69.7 x 9.61mm) frame weighing 5.54 oz (157g), the One M9 is hardly the slimmest phone out there, but those of you who like their gadgets with a bit of a heft to them will love it. In comparison, the GS6 edge measures 5.59 x 2.76 x 0.28 inches (142.1 x 70.1 x 7 mm) at a weight of 4.66 oz (132 g). Thus, it's actually not much bigger than the One M9, but it's even thinner and lighter. Here might be the appropriate place to note that the S6 edge manages to squeeze in a fingerprint sensor and heart rate monitor in its case, while the One M9 dons a pair of BoomSound stereo speakers. We'd say both HTC and Samsung used the available space efficiently, although the Galaxy S6 edge has a better screen-to-body ratio - 71.75% - compared to 68.52 % for the One M9.
Take a look at the design photos below, and vote for the smartphone you think is better.
Display

Shunning resolution and pixel density extremes, the HTC One M9 flaunts a decent 5-inch 1080 x 1920 IPS LCD display with a pixel density of 441 pixels per inch. The resolution is more than effective, with details across the board remaining sharp. Regardless of that, Samsung keeps pushing for more pixels with the Galaxy S6 edge's 5.1-inch quad-HD 1440 x 2560 Super AMOLED display and its pin-sharp 576ppi pixel density. Despite being painted with much less pixels, things look great on the One M9's display, but it's hardly the most color-accurate one out there. It exhibits a color temperature of 8100K (the ideal color temperature for a display is generally 6500K), giving off a cold tone and appearing bluish. Samsung, on the other hand, made another example of a color-accurate AMOLED panel. In Adaptive screen mode, which the majority of users opt for, the S6 edge boasts a color temperature of 6800K, slightly colder than the 6550K color temperature of the Galaxy S6, but nowhere near as skewed as the HTC One M9's LCD panel. Still, we're glad to see the One M9's brightness output has been increased to 508 nits, even if that's a marginal increase over the M8's 490 nits. Over at Samsung, the S6 edge's display gets illuminated with the force of 553 nits, which is a fair bit above the One M9's capabilities.




Take a look at the display measurements of the One M9 and the GS6 edge, and vote for the display which appeals the most to you.




Display measurements and quality



Interface
HTC's modern Sense UI is an example of meticulous design, approached with the same dedication as its flagship smartphones. HTC Sense 7.0 running on the One M9 isn't a revolutionary departure, but we're glad to see HTC kept the same streamlined look for Sense 7.0. Samsung headed in the same general direction too. Since the design rework on the S6 edge is quite thorough, it makes sense that Samsung took a long hard look at the latest TouchWiz too. Like Sense, the interface discards the non-essential and focuses on meaningful features. The result is a familiar, but more direct experience that we're sure you'll find welcome.
We love that HTC made nearly every aspect of the Sense UI customizable – from the theme colors, down to the look of the icons in the apps panel, and even the Android on-screen buttons. Looks-wise, TouchWiz is still distinctively Samsung's, but it bears some of stock Android's visual design elements and has that dynamic flow thanks to Google's hyped-up animations. However, Samsung too pounced on the customization trend and introduced a theming engine that lets users choose color accents, icons, and layouts of core apps. But Sam's implementation is more superficial, as Sense has a nifty additional feature which lets users generate custom themes from stored images and photos.
Beyond that, HTC Sense includes BlinkFeed in the left most homescreen panel, as well as various Motion Launch gestures, the HTC Sense Home widget, and no redundant features in sight. TouchWiz still has stuff like Air Gestures, Air View, and a handful of other quirky features, but they have been pushed deeper into the settings. Also, TouchWiz still has the upper edge when it comes around to no-bull multitasking, thanks to its Multi Window feature which puts two apps on the screen side by side.
Take a look at the screenshots from both interfaces, and vote for the one you like better.
Camera
Armed with a number crunching 20-megapixel auto-focus camera, the HTC One M9 sounds like a serious upgrade over its predecessor and a formidable competitor to the Samsung Galaxy S6 edge. Speaking of the devil, it boasts the same 16-megapixel 1/2.6" Sony IMX240 sensor found in the Galaxy Note 4's camera, but it's been modified with an even wider f/1.9 aperture lens. Thus, the the sensor can draw in more light, which proves useful for low light photography. So, does the One M9 sound more capable on paper? Technically yes, but the reality is very different.
The M8's 20-megapixel camera captures plenty of detail and offers enough flexibility to crop images without much loss in quality. Colors, however, appear washed out at times. Despite that, the M9 is capable of taking some incredible looking photos outdoors, as long as lighting is plentiful, naturally. But the Galaxy S6 edge's camera outputs high quality photos to the practical extent of doubling as a thoroughly impressive point-and-shoot camera. Details are aplenty without being over-sharpened, dynamic range is handled decently, color production is very natural, and the HDR mode rules at bettering the shadows and highlights to draw out details.
Alas, using the M9 for low light photography is, arguably, its biggest disappointment. The camera gives out smudgy shots with limited dynamic range. Brighter areas appear over-exposed, and in HDR mode at night, the M9 appears more prone to blurring due to the longer snapshot time for image processing. Using the flash makes photos appear devoid of color. With its wider f/1.9 aperture lens, the Galaxy S6 edge has none of the One M9's night-time problems. Of course, photo quality gets diminished, but details remain defined in the shots, accompanied by a good white balance setting. The S6 edge doesn't exhibit much noise either, which is especially welcome.
In the field of video recording, the One M9's upgraded camera gives it the ability to record 4K resolution video, in addition to the usual 1080p vids. Results in 4K are a fair bit sharper, especially since the One M9's 1080p video quality is light on the details and heavy on the softer tones and artifacts. At least, audio recording is pretty clear for the most part, and the exposure adjustment is pretty good too. Ultimately, those favoring video capture will be more confident in the Samsung Galaxy S6 edge's abilities. Not only is there a wide degree of shooting modes, such a UHD, QHD, 1080p at 60 FPS, 1080p at 30 FPS, and 720p at 120 FPS to name a few, but the results from each are consistently great. With 4K resolution video in particular, so much detail gets captured that digital zoom is actually effective for a change. Other notable qualities include smooth auto-focus, minimal artifacting when panning, a gradual exposure adjustment, and clear audio recording. A weak link is 1080p/60FPS video capture, which gives the picture a strange watercolor-like appearance. But thankfully, 1080p/30FPS video recording is free of this problem.
As a whole, the One M9's camera isn't well-rounded enough to compete against the one on the Samsung Galaxy S6 edge. Take a look at the camera samples below, and vote for the camera you like better. We've included side-by-side crops, as well as original camera samples from both phones - mind you, these take quite a while to load!