HTC One (M8) review Q&A: your questions answered
18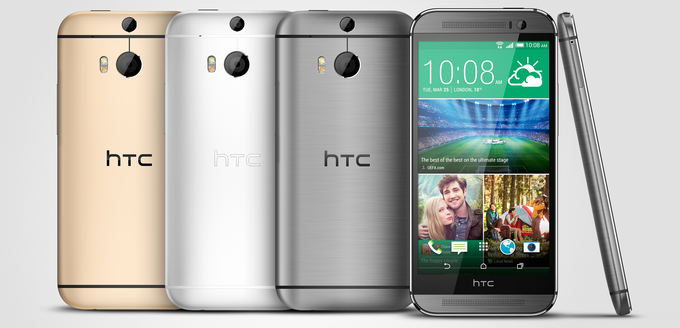 Last week we were given the pleasure to take the all new
HTC One (M8)
through its paces, and in case you've read our
in-depth HTC One (M8) review
, then you surely know that the phone is not to be underestimated. But as extensive as our tests and articles might be, we still could have missed a detail or two that you, dear reader, might have been curious about. That is why shortly after posting our review, we invited you to ask us anything that you wanted to know about the HTC One (M8). Below you'll find the answers to some of the questions that we received.
jasonjerkoff asks:
I heard that the htc m8 does not have 4k recording is that true ..........and that the ram is ddr2 instead of ddr3 on the sg5 and sony z2 ?
No, there is no 4K video option on the HTC One (M8), and it can't be added via software. As our reader StraightEdgeNexus pointed out, the resolution of a 4K video exceeds 8MP, while the (M8)'s sensor has just 4MP of resolution. As for your second question, we're 99.5% sure that the HTC One (M8) actually uses LPDDR3 RAM. A teardown has revealed that the chip in use is the "Elpida FA164A2PM" for which we couldn't find the specs sheet. But then we realized that characters from the model code were missing. After consulting with the website of Micron, the company that owns most of Elpida now, we learned that the letter F indicates the chip's kind - an LPDDR3 module in this case.
tiara6918 asks:
What happens when you cover one of the camera sensors when taking a pic?
That's a very good question. Well, if the main camera is covered, you'll end up with an unusable photo of your finger, or whatever is blocking the light's path. If the lens of the secondary cam is obstructed even patrially, a pop-up message will let you know. You may still take pictures even when the smaller cam is covered.
tiara6918 asks:
Why does the us version use a 2.3 ghz processor compared to the 2.5ghz found in the international model?
To clear things up, both the international HTC One (M8) and the (M8) model sold by US carriers have the Snapdragon 801 MSM8974AB chip with a maximum speed of 2.3GHz. The Snapdragon 801 MSM8974AC is for HTC One (M8) units sold in Asian markets. We're not sure why HTC chose to market two different models of its flagship.
Zakriya asks:
Does the bokeh blur effect of duo camera has range/length limit? As its 1m for the background defocus app in Xperia's.
If you apply the UFocus effect on an extreme close up, you won't be happy with the results. The entire photo gets blurred if you're too close. UFocus seems to be working best for portraits. Also, we can confirm that the effect isn't available in all photos. The secondary cam is useless if you've used the flash or if you're shooting in a dark environment as the effects it enables will be disabled in your gallery app.
cheeseycheeser asks:
Does the secondary camera interfere with using apps with their own camera interface (like Snapchat, Instagram, etc.)?
We've had no issues with third-party camera apps so far.
GamePlayer asks:
Is the front-facing camera(5mp) better than the back camera(4mp)?Does it have better details?
We have no build-up of dust on our HTC One (M8) unit. Speaking of which, there's none on our HTC One (M7) either.
DEATHSTROKE9 asks:
Does it feel more premium than the original htc one? Just asking.
A little bit since there's now metal on the sides as well.
pecemece asks:
How much free internal storage is available on the base 16 gb model ?
You get 9.87 gigabytes to work with as 5.2 gigabytes are occupied by system files. The 32GB model, which should have 29.8 gigs of formatted space, will probably provide you with about 24.6 gigabytes.
Dude2014 asks:
Is Sense 6.0 faster and smoother than previous Sense 5.5?
The HTC One (M8) running Sense 6.0 feels a little bit faster than the HTC One (M7) with Sense 5.5. Animations are faster and the better processor could be helping as well.
NoFanboy asks:
Does it overheat as much as the m7? Is the lowest volume setting as loud as it was on the m7?
I've been using the HTC One (M7) for a couple of months now and I've never had any overheating issues with it. As for the HTC One (M8), I just spent over 30 minutes running CPU and GPU benchmarks on it. No overheating issues whatsoever. The back of the phone got just a little warm and that was about it. Are you doing some processor-intensive work on your phone while charging it? Because if you do, that's not a good habit and might lead to overheating. As for its volume, they both sound about the same at the minimum level when used with a basic set of earphones. On the (M8), however, the BoomSound loudspeakers seem quieter when set at minimum level compared to the (M7)'s speakers with BeatsAudio on.
timukh asks:
When can we expect it to be released in India or Asia?
The HTC One (M8) should launch on April 5 in Singapore. Other countries across Asia should get it by early May.
magnanimus asks:
Are there 2 versions? One with gunmetal and one with anodised aluminium? Or is it just gunmetal?
Gunmetal Grey is just one of the three colors for the HTC One (M8). The phone will also come in silver and gold colors, although availability may vary from one region to another.