HTC One M8 for Windows vs Samsung Galaxy S5: first look
16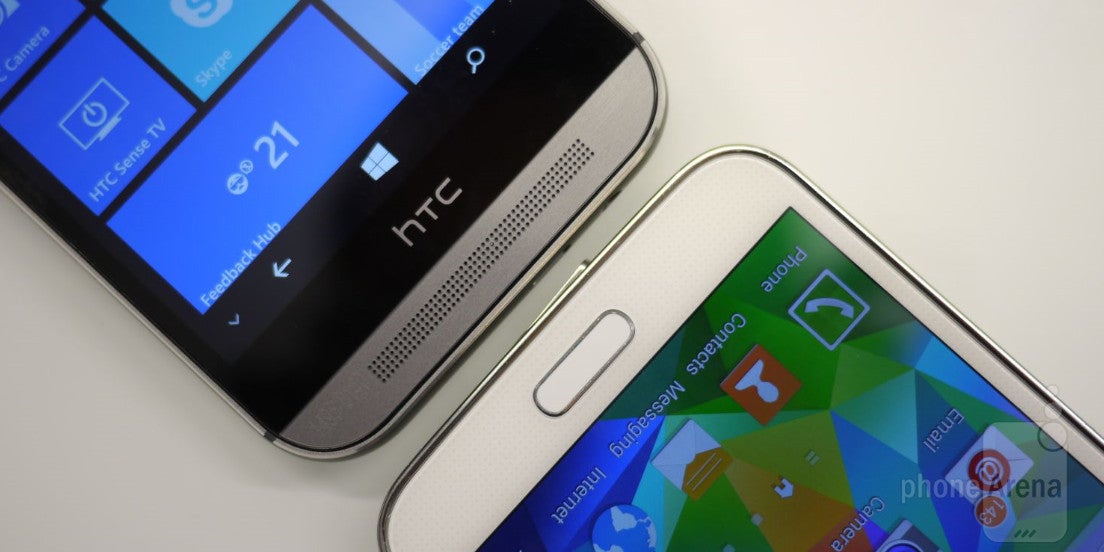 The epic battle between HTC and Samsung has been ongoing for a long time now. Whether it's talk about sales, or merely trivial things like which of the two is the better looking one, we all know that these two heavyweights are going to continue duking it out. Making its presence once again in Microsoft's mobile platform, the
HTC One M8 for Windows
is an attractive option for those looking for something different, but it still needs to contend with one of the best in the space right now – the ridiculously features rich
Samsung Galaxy S5
.
Design
Visually, we're still more attracted to the design of the HTC One M8 for Windows, since its premium construction, metal constructed body, and solid feel in the hand, all combine together to give it the stylish appeal that's needed for a modern smartphone. Still, the Samsung Galaxy S5's water resistant construction is one element that HTC's latest offering can't match – despite the fact that they had the time and resources to somehow, remotely bring it to the handset. On the surface, we still favor the design of the HTC One M8 for Windows more, since the plastic construction of the Galaxy S5 doesn't evoke the same lovable response we get from its rival.
Physical appearance is one thing, but we can't neglect to talk about how the Samsung Galaxy S5 is outfitted with an assortment of extra gear. In particular, we're referring to its finger print and heart rate sensors, which are two things that HTC's product lack. Between them, the finger print sensor is just something we come to expect in today's high-end, flagship smartphone.
Display
Frankly, the two displays here are very familiar. Neither one is greatly profound over the other, as they're things we consider as the norm for any true flagship smartphone. Specifically, it's a 5-inch 1080 x 1920 Super LCD-3 display with the HTC One M8 for Windows – while the Galaxy S5 is outfitted with an equally formidable 5.1-inch 1080 x 1920 Super AMOLED display. On paper, the HTC One M8 for Windows has the slight edge when it comes to pixel density, but in all fairness, it's not something that is visually noticeable. By default, the Galaxy S5's screen has more of an iridescent, over-saturated glow – something that people might view as an attractive quality over the more neutral color output from the HTC One M8 for Windows. Whatever the case, we can agree that the two are very attractive in their own way.
Interface
Indeed, the Windows Phone 8.1.1 experience of the HTC One M8 for Windows is something we haven't come across before – so we're naturally interested in what it has to offer over Samsung's latest TouchWiz experience with the Galaxy S5. Having made comparisons of the two opposing platforms, Android versus Windows Phone, we know what the two entail and has to offer to the general consumer. When it comes to the visuals and presentation, there's something to say about the HTC One M8 for Windows – like how its dynamic and alive look manages to catch our eye more than the cartoony look that continues to be associated with Sammy's experience.
Yet again, HTC's smartphone proves to have the edge when it comes to physical attractiveness, as the Windows Phone 8.1.1 experience has more life and spunk to its presentation. On the flip side, however, Sammy's TouchWiz experience offers a handful more features, which some we agree to be extremely useful – while others are just redundant. Windows Phone has come a long way, and when we combine the additional enhancements that HTC sprinkles into the mix, it has enough gas in the tank to make it appealing to the general consumer. Then again, Samsung's customized Android experience has its perks too.
Processor and Memory
With a cursory glance between the two, we know that these two devices are more than capable of running intensive operations, especially when they pack nearly the same identical processors. For the HTC One M8 for Windows, it features a quad-core 2.3GHz Qualcomm Snapdragon 801 processor with 2GB of RAM – while the Galaxy S5 uses the same gear, but is chip is clocked in at a slightly higher 2.5GHz speed.
Stuffed with 32GB of internal storage, these two smartphones offer enough capacity to appease the general user. Better yet, they also have expandable storage via their microSD card slots – albeit, we prefer the easier access to the Galaxy S5's slot, as we're required to use those pinhole sized adapters to access the slot in the HTC One M8 for Windows.
Camera
Having done several photo comparisons using the Galaxy S5 and the HTC One for Android, we know what advantages that come along with Sammy's product. Yes, this is a totally new product, but the HTC One M8 for Windows bears the same 4-megapixel "Ultrapixel" camera of its sibling – with that duo camera system in tow too! Just comparing that number against the sizable 16-megapixel camera of the Galaxy S5, we're already leaning towards a clear winner before actually checking out results. HTC's Ultrapixel camera has failed to impress us in the details department on several occasions in the past, and it's hard not to think the same here.
Expectations
HTC's Android-powered One M8 managed to put up a good fight against the Samsung Galaxy S5 in our comparison, but seeing that we're dealing with a new product here, one that's giving us the Windows Phone 8.1.1 experience with a few enhancements from HTC, it's tough to say right now how it can compete against Sammy's flagship. The design is still undoubtedly more attractive than what Sammy has with the Galaxy S5, but it'll take more than good looks to overpower the all-encompassing Galaxy S5. We'll need to spend some more time to make that determination, though, our previous comparison is already providing us with a lot of insights into how things might pan out.