HTC One (M8) for Windows might have debuted sooner were it not for Microsoft acquisition of Nokia
63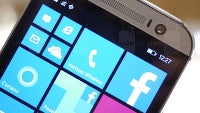 HTC has a winner on its hands with its One (M8) smartphone. In the Android space, it is simply the best built smartphone you can buy. The fit and finish is excellent, and the final assembly is an outstanding execution of using top quality materials without blowing the bank on things like sapphire.
More than the materials though, the
HTC One (M8)
is geared perfectly for the person that uses their smartphone for everything, especially consumption of media. The front facing speakers make the M8 lead the pack in that form factor.
When Microsoft loosened its manufacturing requirements to allow companies to use existing hardware designs and run Windows Phone, the HTC One (M8) was the perfect reference to build off of because of those BoomSound speakers, top shelf internals, and slick build quality.
Long before Build 2014 this past spring, Microsoft had let loose many of the initial build restrictions that were originally baked into the requirements for Windows Phone, like a dedicated shutter button for the camera and on-screen navigation buttons. Samsung immediately set out to recycle its Galaxy S4 design for the
ATIV SE
.
HTC was on the same page it seems with its One (M8) design, but it held back the
HTC One (M8) for Windows
due to the merger with Microsoft and Nokia Devices and Services. "We were waiting to see how the relationship would take shape," according to HTC USA head Jason Mackenzie, "We weren't sure what their strategy was going to be."
Any tension was relieved when Microsoft announced its restructuring which is going to
involve 18,000 layoffs
from the company, more than 12,000 of which will be from the recently acquired Nokia unit. Given that, Microsoft needs a high-quality device like the M8 in the stable.
That said, HTC did see a gap in high-end hardware for Windows Phone. "Nokia offers terrific hardware, but HTC is just more established in the US in terms of momentum," Mackenzie said of the M8, "[it is] the first time a smartphone manufacturer has launched an iconic device on multiple operating systems without making any compromises."
sources:
CNET
via
WMPoweruser