HTC Nexus 9 release date might be October 16th
9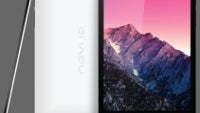 The HTC Nexus 9 aka Volantis tablet has been rumored for a long time, and we've even seen the first accessories in the form of a
Bluetooth keyboard case leak out
, but we still don't know much about the actual release date of the new slate. Now, however, information from an anonymous tipster speaking to MoDaCo founder Paul O'Brien reveals that the Nexus 9 release date might be right in the middle of October, on the 16th.
The upcoming Nexus 9 is expected to feature a 9-inch high-resolution display, and that size alone is novel for Google, but the real highlight might come in the form of the Nvidia Tegra K1 system chip that is said to power the device. Nvidia pulled out a clever campaign, marketing the Tegra K1 as a '192-core' chip, but we should keep in mind that as flashy as this sounds, the number represent graphics 'shader' cores, much smaller processing units than the standard CPU cores.
Of course, the Nexus 9 is expected to showcase the best of Google's new operating system Android L, and - if real - it should be one of the first with the L release on board.