HTC Liberty/Intruder makes a small cameo appearance in a video for AT&T's testing lab
This article contains unofficial information.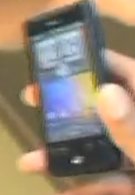 Verizon isn't the only one who has everyone guessing at the name of one of its upcoming handsets, but AT&T is at it as well. We've been hearing a lot about an Android handset going by the name HTC Aria that's headed for AT&T, but just like so many unannounced handsets, it has undergone a
few name changes
over a short period of time. It was then believed that this Android set was going to be named the HTC Liberty, which happened to be captured on camera, but then the HTC Intruder moniker popped up in a
RadioShack inventory system
. Whatever it's going to be called, this Android handset had a small cameo appearance in a video that showed off the inner workings at an AT&T lab facility where phones are put through rigorous testing. Even though it didn't have too much face time in the video, you can clearly see that the Sense UI is running on the handset and looks to be similar to the
rendered image that has been associated with the HTC Liberty
. Aside from that, the video demonstrates the process that most phones have to go through before it can shed its roots and take its flight into the mobile world.
HTC Aria Preliminary Specifications
via
Android Central