HTC Intruder for AT&T shows up in RadioShack's inventory system
This article contains unofficial information.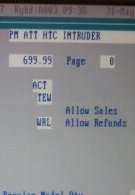 It first started out being the
HTC Aria
and then became the
HTC Liberty
, but it looks like another name change is in line for this upcoming AT&T bound handset. Now there is a snap shot of RadioShack's internal inventory system which reveals the HTC Intruder with a full listing cost of $700 and a contract price of $130. It's difficult to say if this is an entirely new handset or if it's indeed the same device as the HTC Aria and Liberty – 3 name changes is surely enough we'd imagine. Although the screen shot visibly shows that the HTC Intruder is bound for AT&T, it doesn't shed light of any of the other specifics regarding the handset – it's possible that it could also be a Windows Mobile phone at this point. Nonetheless, it would most likely fit to be an Android offering more than anything else as we'd imagine AT&T is trying their best to grow their lineup. Even with its somewhat higher price point for what's being regarded as a mid-range offering, we'd surmise that AT&T customers will be more than willing side with any Android set after the experience with the BACKFLIP.
HTC Aria Preliminary Specifications
source:
TCJcrew
via
Unwired View