HTC Kingdom, HTC Rider and HTC Doubleshot leaked out
13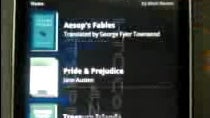 Welcome the HTC Kingdom, the HTC Riderand the HTC Doubleshot – the newest additions to the Taiwanesemanufacturer's lineup, freshly leaked on the Chinese internets.
We don't know much about the HTC Kingdom but we do know that it's coming with a qHD resolution (540 x960 pixels), putting it in the same high league as the HTC EVO 3D andHTC Sensation. The HTC Kingdom resembles closely the Thunderbolt withits wide ear speaker and we wouldn't be surprised to see it landoverseas as a reincarnation of the 4G heavyweight. Further detailshowever are scarce as the blurry shot only reveals a book app runningon what looks like Android.
The
HTC Rider
also looks familiar –with its four rounded physical buttons, we were
reminded of the HTCEVO 3D
. But the HTC Rider has a wide speaker grill and thefront-facing snapper on the right side. Whispers suggest it's a closecopy of the EVO 3D, slated for the Old Continent, but we couldn'tconfirm this just yet.
Finally, the HTC Doubleshotis the mostmysterious one of all. We could only find a user agent profileconfirming a screen with a resolution of 480 x 800 pixels and aQWERTY keyboard. It will ship with Android 2.3 Gingerbread. Hopefullyall of those new phones will come with the latest Sense UI, so stay tuned ashopefully more details will show up soon.
Thanks, Philip!
source: Sniper blog and Pocketnow