HTC HD7S Hands-on
14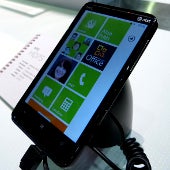 We got to handle the phone with the largest screen inWindows Phone land at the CTIA show, in its AT&T reincarnation, which adds an"S" to its name.
The
4.3"
LCD display on the
HTC HD7S
sports the same 480x800 pixels of resolution, but the "S" means thatthe screen is now of the
Super LCD
variety, unlike the plain vanillaLCD of old, exhibiting higher contrast, brighter, vivid colors, andbetter viewing angles right before our eyes.
Not to mention it should be more power-efficient than the LCD on the HTC HD7. Have a look at the few pictures we snapped of the new screen on the HTC HD7S:
The handset offers a remarkably goodfit in the hand, because it feels very compact for its screen size,with curved edges everywhere, and soft-touch plastic on the back. Allthe rest of the usual WP7 goodies are onboard – 1GHz Snapdragonchipset and protruding 5MP camera with dual LED flash that does HD video recording.
There is a kickstand tucked around thecamera area, which comes in very handy for watching movies on thelarge screen. You should be able to store enough of those movies onthe handset, since HTC has graced it with 16GB of internal memory.
AT&T's HTC HD7S will ship with thelatest version of Windows Phone 7, which means an even more fluidperformance, and the copy/paste update onboard. AT&T didn'thesitate to slap its carrier-specific software on it, as we couldeasily see the U-Verse TV service app winking at us from a double-tile on the homescreenin nasty orange.
As for availability, it shouldn't be long, AT&T has set up a preview website, where you can enter your email address to get notified for the HTC HD7S arrival. In the meantime, you can read our in-depth review of the original to catch a notion what you will be dealing with on AT&T.