HTC Freestyle to herald BREW MP for quick messaging dumbphones
6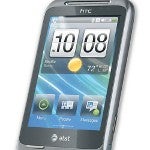 Enough with the super-speccedsmartphones, AT&T thinks for those who want a more affordable phone. The HTC Freestyle is the first toherald Qualcomm's very own BREW MPon American soil and the phone is expected as soon as next month. BREW MP will be the platform of choice forquick messaging phones (QMP) and a whole new lineup of these was justannounced for this year.

Bignews – the platform promises no fragmentation. Does this mean thatall the phones that will come out will have a 3.2 inch touchscreenjust like the HTC Freestyle? Time will tell, but for the time beingtake a look at our BREW MP review here. The HTC Smart took thefirst step with Qualcomm's platform in Europe and Asia.
HTC Freestyle on its part will have acapacitive screen and HTC Sense elements to make the experienceprettier. Five new quick messaging phones areexpected on AT&T and Canadian carrier Rogers Communications,which uses similar 3G bands is also getting phones with BREW MP.

Well, well, things are starting to look interesting forAT&T with - whoa - 20 new 4G devices. And 4G now seems to include HSPA+ forAT&T, but worry not – the second half of 2011 will bring LTE.Check out AT&T's detailed plans here.
source: Engadget