HTC EVO V 4G hands-on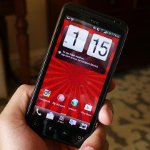 Remember all that talk regarding the possibility of
Virgin Mobile
getting in with
some kind of 4G WiMAX device
? Well, as we know, it was recently confirmed that the Sprint subsidiary would indeed be getting WiMAX enabled devices in the future. And at CTIA 2012, we managed to scope the
first one coming to the prepaid carrier
by the end of the month – the
HTC EVO V 4G
.
If the photos already don't give it away, this smartphone is nothing more than a rebranded HTC EVO 3D, which has been tearing up Sprint's lineup for close to a year now. Thankfully, Virgin Mobile customers can now relish this 3D enabled smartphone to its fullest. Aside from the obvious Virgin Mobile branding in the rear, this is
identical in every way
to the HTC EVO 3D riding on Sprint right now. Naturally, its design doesn't impress as much as before, but nevertheless, it's solidly constructed all around.
Just like before, the HTC EVO V 4G features a
4.3" qHD LCD display with a parallax barrier overlay
to provide the comforts of a no-glasses required 3D viewing experience. Some might perceive it to be a novel item, but still, it's nothing more than an additional feature to its arsenal. Besides from being able to watch 3D content right on the handset itself, it also has the ability to shoot 3D photos and videos – with the aid of its
dual 5-megapixel cameras
. Beyond that, its specs sheet is identical to Sprint's version. Honestly, the display is cool and all, but be warned, you might want to limit continuous usage since it can get a bit nauseating after an extended time.
However, what makes this beauty somewhat more prized off the bat, is the fact that it's boasting
Android 4.0 Ice Cream Sandwich
– thus, beating Sprint's version to the punch. Although it's not Sense 4.0, it appears to be
version 3.5
, which we've seen recently on
other devices like the HTC Sensation
. Priced at
$299.99 no-contract
, it's far from being the most budget friendly thing, but then again, having
4G WiMAX connectivity
surely makes it attractive enough to own over most things on Virgin's lineup. Expect to snag this one starting
May 31st
!